WASHINGTON — While studying abroad in Uganda, Renee Dunn discovered its bounty of jackfruit, plantains, papaya and other fruits unlike anything she had ever tasted stateside. A couple years later, she returned there and launched Amazi Foods to share these flavors with American consumers while supporting economic development in one of the world's poorest nations.
Numerous food and beverage companies have committed to ethical sourcing. Amazi goes a step further, keeping the production process in the country where ingredients are grown. The brand offers snacks including plantain chips and chewy jackfruit bites that are produced in Uganda and sold in more than 700 grocery stores in the United States.   
Amazi has created more than 150 jobs since its founding five years ago, paying more than double the local wages to full-time employees, plus paid leave, meals and regular medical check-ups. Ninety percent of the staff are younger than 30 years old, addressing youth unemployment in the area, and 70% are women, who also hold top management and supervisory positions, Ms. Dunn said.
Over the past year, all of the fresh fruit inputs purchased have been sourced directly from smallholder farmers, and a quarter of all revenue from the company's purchase orders goes directly to the farmers, allowing for a premium of more than 300% over local commodity prices, Ms. Dunn said. The startup is expected to contribute more than $13 million to the Ugandan economy over the next four years.
"I think the idea of creating more equity in our supply chains is important," Ms. Dunn said. "We talk a lot about sustainability, especially as it pertains to the environment… People don't talk as much about economic sustainability. For me, that's a huge focus and part of why I started the business."
A fitness instructor and former yoga studio manager, Ms. Dunn, who is based in the Washington, DC, area, initially partnered with fruit drying companies in Uganda to supply snacks for the US market. However, she soon realized maintaining quality, consistency and transparency would become challenging as the brand began gaining traction.
"We knew we would have to come up with another solution but didn't necessarily have the demand yet to justify a brand new facility," Ms. Dunn recalled. "That's when Sprouts came into the picture."
Two years ago, a buyer for Sprouts Farmers Market showed interest in stocking Amazi products at its more than 360 stores. In the months that followed, Ms. Dunn opened a facility with new partners in Uganda and readied the product line for national distribution. To protect workers during the pandemic, the company implemented regular COVID-19 testing and provided treatment kits, paid leave and bundles of food staples during lockdown periods.
"It was sort of chaos to get it up and going, but now it's an incredible shift for us, and we were so grateful we got this set up before the pandemic because I think if we were still with our original partners, we would be out of business through the pandemic," Ms. Dunn said.
Today, the lineup of products includes three varieties of plantain chips and three varieties of jackfruit chews, each made with three simple ingredients. The plantain chips are dried and roasted in coconut oil or olive oil, then salted or chili spiced. The jackfruit chews, available in ginger lime, chili lime and ginger turmeric flavors, are described as a "cross between apple, banana, mango and pineapple, packed with antioxidants and fiber."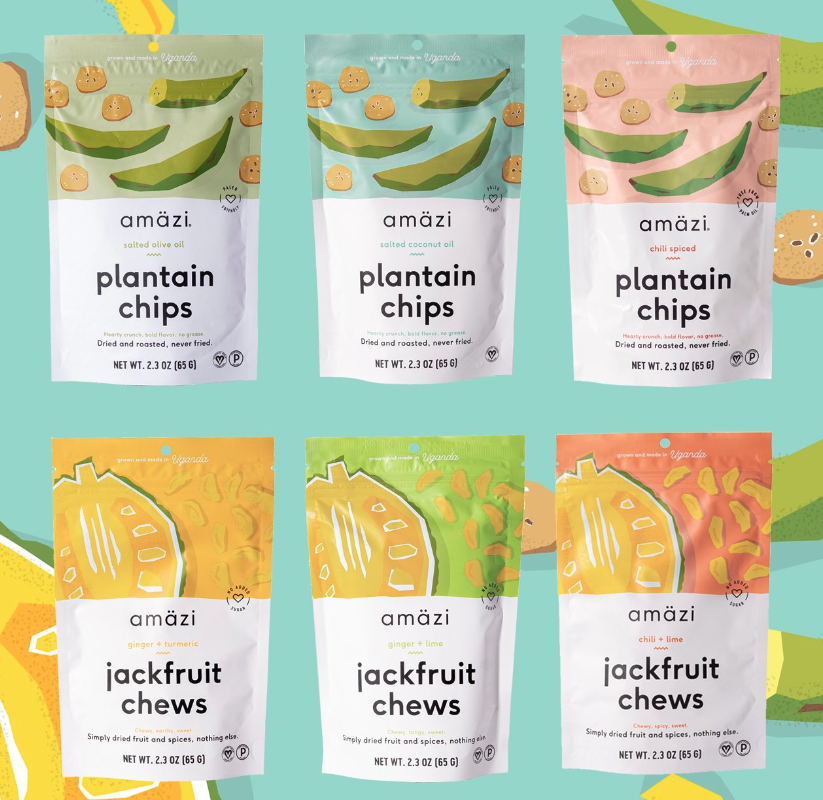 Building brand awareness during the pandemic has been difficult. Amazi partnered with snack subscription boxes and online grocery retailers such as SnackMagic and Misfits Market, as well as other emerging food brands and digital sampling programs while in-store demonstrations remained suspended.
"We've done the typical giveaways, but we've also done some surprise-and-delight product swaps with D'vash and Soom Foods," she said. "When someone ordered from their websites, they'd get a sample of our product and vice versa, and we'd send out a coupon code… It hasn't been super high traction in terms of getting people to our website, but I do think it at least gets our product in front of consumers we think would enjoy it."
Amazi also updated its packaging to better communicate the product offering at the shelf. Many consumers are unfamiliar with jackfruit. Others may have eaten it as a meat substitute in savory dishes. New packaging highlights the product's flavor, texture and health benefits, likening it to "a grown-up fruit rollup," Ms. Dunn said.
The brand previously produced papaya strips, but Ms. Dunn said a reformulation is needed prior to relaunching the product widely. Future launches may feature additional fruits, roots and spices that are abundant in Uganda, as well as jackfruit seed flour, an upcycled ingredient that may be used in gluten-free baking applications.
As the company continues to expand its reach, landing new online and brick-and-mortar distribution in recent weeks, scaling production becomes a bigger consideration.
"Ultimately building a new facility is on the table, one with more capacity," Ms. Dunn said. "But we are trying to start establishing relationships with other local processors and trying to see who would be able to meet our quality standards and/or serve as overflow for us. For me, that does help us reach our mission or goal to help support local industries in economies that we're sourcing from.
"For example, the jackfruit seed flour. We don't currently have equipment to make flour at the facility, but we know of local companies that make plantain flour. Can we work out an arrangement where they are part of our production and supply chain…?  Can we create a copacker model in Uganda where it doesn't really exist right now?"