KANSAS CITY — When it comes to innovation, a key often is capturing the latest taste sensation consumers are craving. In the cookie category, that taste currently appears to be caramel brownie with a touch of salt.
Over the past several months a handful of new cookie products have debuted featuring caramel, brownie or sea salt — in many cases all three. New flavors are a key component in growing the category, which is fast approaching $10 billion in dollar sales, according to Information Resources, Inc., a Chicago-based market research firm.
In the 52 weeks ended Aug. 8, dollar sales in the cookies category totaled $9.8 billion, up 2.2% over the same period a year ago, according to IRI. Unit sales, meanwhile, dipped 3.5% in the period to 3.56 billion.
The category's largest player, Mondelez International, Inc., turned in dollar sales of $3.9 billion in the 52 weeks ended Aug. 8, up 3.2% from the same period a year ago, according to IRI. Mondelez's largest brand is Oreo, and earlier this summer the Chicago-based company announced it was expanding the brand with the launch of Salted Caramel Brownie Oreos. The new cookies feature a layer of caramel creme and a layer of brownie-flavored crème as well as a sprinkle of salt. Mondelez has offered Oreos featuring salted caramel or brownie, but the combo represents a first for the brand. Alongside the Salted Caramel Brownie Oreos, Mondelez has introduced Apple Cider Donuts Oreos, which feature an apple cider donut filling in between two golden wafer cookies.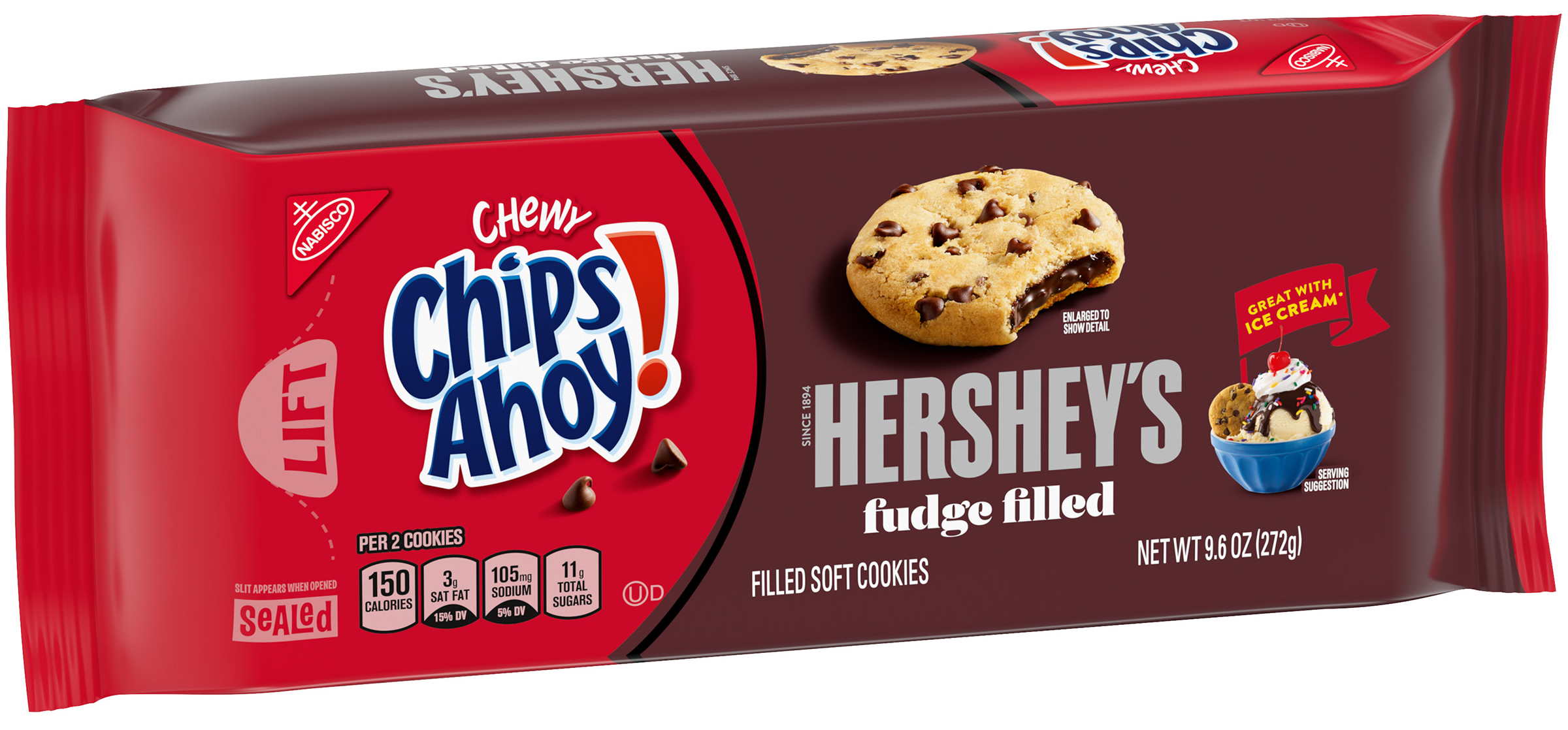 Elsewhere in its portfolio, Mondelez has teamed with The Hershey Co. to debut Chewy Chips Ahoy! Fudge Filled Cookies inspired by Hershey's. The limited-edition, soft-baked cookies feature a Hershey's-inspired fudge-filled center and contain 150 calories and 11 grams of sugar per two-cookie serving.
"With summer fun in full swing, there couldn't be a better time to introduce the new Chewy Chips Ahoy! Fudge Filled Cookies inspired by Hershey's to make the season a little sweeter and our taste buds a little happier with this new cookie," said Sabrina Sierant, associate director of the Chips Ahoy! brand.
More recently, Girl Scouts of the USA, New York, announced that Adventurefuls — a brownie-inspired cookie with caramel-flavored crème and a hint of sea salt — will join the nationwide lineup for the 2022 Girl Scout Cookie season. The new cookies join a lineup that also includes Caramel deLites/Samoas and Caramel Chocolate Chip.
In late July, Minneapolis-based Target Corp. stepped up its cookie game with the launch of four new Favorite Day sweet treats, including Salted Caramel Chocolate Chip Cookie Thins. The new cookies are crispy, bite-size chocolate chip cookies with a touch of salted caramel flavor. Each nine-cookie serving contains 130 calories, 11 grams of sugar, 6 grams of fat and 2 grams of protein.
Keebler, a brand of the Ferrero Group, turned its attention to fall with the introduction of limited-edition Pumpkin Spice Fudge Stripes cookies. The cookies combine Keebler vanilla fudge with freshly baked spiced cookies.
"The cookies have a wonderful pumpkin pie taste that says the fall season has arrived," said Kristin Flood, senior brand manager, seasonal cookies at Ferrara.