CHICAGO — The mantra "Fewer, focused and future-minded" is guiding The Coca-Cola Co.'s approach to new product innovation.
The phrase means measuring success not by the number of stock-keeping units (SKUs) launched but by the impact and long-term potential of strategically selected big bets, such as Coca-Cola with Coffee, said Carlton Austin, director of convenience retail strategy and commercialization at Atlanta-based The Coca-Cola Co.
Launched in the United States in early 2021, Coca-Cola with Coffee blends Coca-Cola soda with Brazilian coffee and comes in caramel, dark blend and vanilla varieties.
"You'll see a lot more marketing investment in that in 2022," Mr. Austin told Food Business News during an interview at the National Association of Convenience Stores' 2021 NACS Show, held Oct. 5-8 in Chicago. "Those who try it, love it. It has a 94% repeat rate, so we're trying to put it in more hands."
Coca-Cola unveiled several better-for-you beverages at the NACS Show that will roll out next year, including a line of Aguas Frescas sold under the Minute Maid brand. Available in a 16-oz format, the juice drinks were created to satisfy Gen Z's desire for unique flavors and indulgence while piquing their curiosity with its globally inspired heritage, according to the company.
"We have hibiscus, mango and strawberry flavors," Mr. Austin said. "It has half the calories of the nearest competitor. That's something we're really proud of."
The Minute Maid Juice to Go lineup will undergo a reformulation in January with 100% vitamin C. Coca-Cola also plans to bring one of the top frozen beverage flavors into a packaged format with Minute Maid Blue Raspberry.
"It's a flavor that consumers love and is the third most popular frozen flavor in the convenience channel," Mr. Austin said.
AHA Fuji Apple + White Tea will hit shelves early next year. The sugar-free, calorie-free and sodium-free beverage features 40 mg of caffeine for a morning or afternoon pick-me-up. Other new products in Coca-Cola's lineup include smartwater passionfruit mango, a vapor-distilled water made with natural fruit infusions, and smartwater+ support, which features zinc and blackcurrant blueberry extract to support immune health.
"Seventy-one percent of people are reprioritizing mental health and physical health," Mr. Austin said. "From a beverage perspective, 83% are willing to pay more for better-for-you beverages."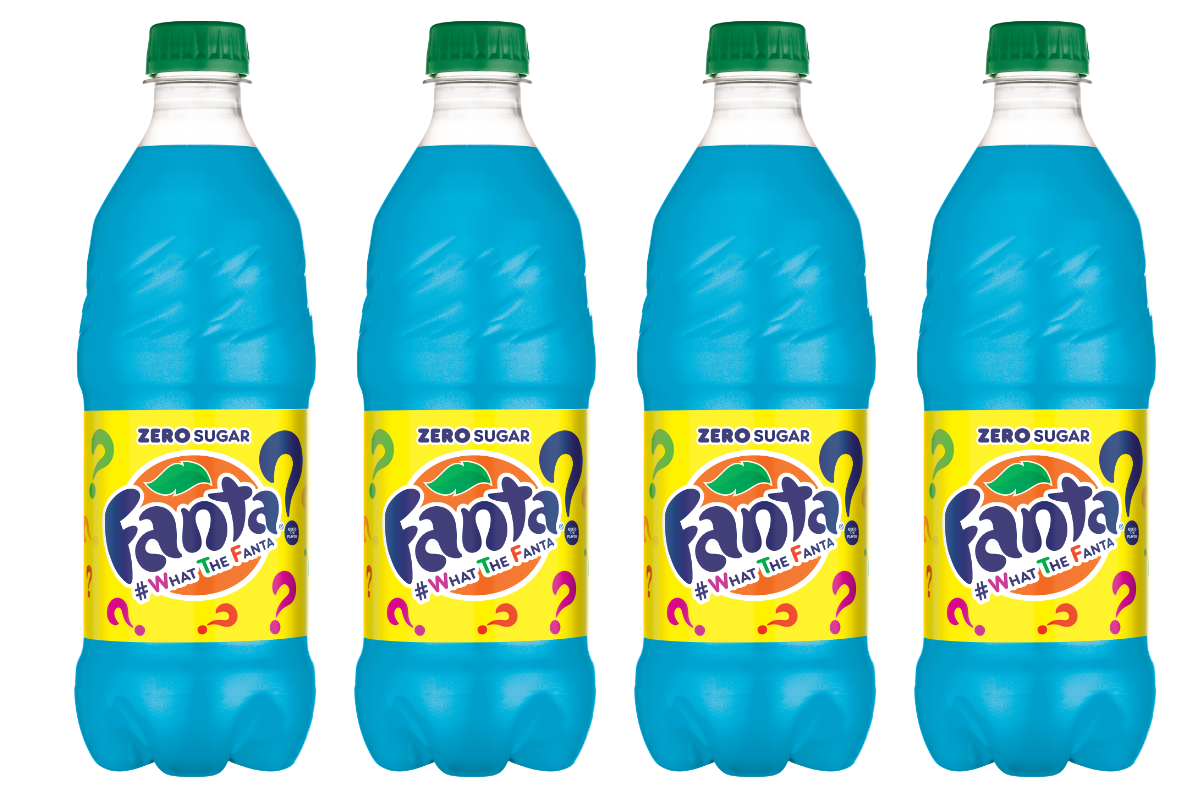 New Fanta flavors hitting shelves in 2022 include Fanta Dragon Fruit Zero Sugar. The international flavor will make its debut in the United States in February. What the Fanta? is a limited-time offer, available next summer, that includes a variety of mystery flavors in multiple formats, including slushies and a zero-sugar bottled flavor.
The What the Fanta? offerings are designed to be tricky to identify, with the colors of the liquid intentionally not matching their flavor profiles.
The mystery Fanta flavors are another way the company aims to connect with younger consumers, especially those who are fans of frozen beverages, Mr. Austin said. Data from Coca-Cola show slushie users would be willing to try up to 22 different flavors if offered.
"From a frozen beverage perspective, 68% of Gen Z and 46% of millennials are engaged in that category," he said. "What's interesting about this is only 19% of people have the same beverage flavor from their previous occasion. They enjoy variety, and young people in particular are the ones looking for that variety."