KANSAS CITY — This past January, a pricing analyst at Nestle USA pitched to the company's management team his idea for the Brookie, a brownie-cookie combination that may be marketed under the Nestle Toll House brand.
The executives ate it up.
Peter Heil, who had joined the company just two years earlier, was whisked from his daily responsibilities and matched with others in the organization to develop the product for a pilot cookie delivery service near Nestle's US headquarters in Arlington, Va.
"The Brookie is the result of a mass brainstorm, a giant incubator and the kind of agile innovation you'd expect to find at a startup rather than a large company with more than a century of history behind it," Mr. Heil said.
He is among a growing number of intrapreneurs, employed by large corporations and empowered to generate new product concepts. Nestle is one of several food companies engaging an extensive workforce to create what may become its next billion-dollar business.
"When I started my role with the Nestle finance team, I could never have imagined I'd go on to be the founder of my own product," Mr. Heil said. "Launching the Brookie has been an incredibly rewarding experience, packed with lessons about how foods go from small ideas in the kitchen to products in consumers' hands, and enriched by the collaboration with peer and leadership teams."
Nestle USA introduced the Open Channel internal crowdsourcing initiative three years ago. Employees throughout the organization, regardless of job title or function, are encouraged to submit and vote on ideas. Those with the most popular ideas are invited to present to the executive leadership team and, if selected, are provided resources to commercialize the concept.
"Leading up to our pitch, we don't just present the rough idea we started with; we work with chefs and marketers to make the best version of our product and build a strong business case for the idea to move forward," Mr. Heil said.
More than 4,000 ideas have been submitted over the years, and several have become market successes, said Doug Munk, senior director of new business ventures at Nestle USA. An example is Stouffer's Mac & Cheese Bites, a frozen appetizer that has since rolled out nationally and inspired additional launches, including Stouffer's Classic Lasagna Bites and Stouffer's Chicken Pot Pie Bites.
"Our average timeline is somewhere between six and seven months from pitch day to launch," Mr. Munk said. "With retail and reset dates, it could take a while, so in many cases we'll start with a retailer that's willing to take us on off cycle and really test and incubate the product."
Not all ideas are tied to an existing brand in Nestle's portfolio. A few years ago, Kelaine Cleary, then a manager in contract manufacturing, presented the idea for Blenderfuls, a new brand of frozen smoothie cubes combining fruit, vegetables and seeds that may be tossed in a blender with milk or a plant-based alternative. Following successful market tests, Nestle is adding the product to its Outshine lineup alongside the brand's frozen fruit bar offerings.
"Typically, these founders are brought on not only through development, through launch, but also through the pilot," Mr. Munk said. "If it's successful we'll hand it off to the businesses to scale up."
Open Channel serves dual purposes, capturing a wide range of innovative ideas while fostering a strong and collaborative work culture. Nestle, which has twice landed on Fast Company's list of Best Workplaces for Innovators, is exploring additional ways to use its scale and expertise while replicating the speed and agility of a startup to produce innovation, Mr. Munk said.
"As the consumer evolves, we need to evolve and, as we put it, self-disrupt before we become disrupted," he said. "That's how we look at it. How do we future proof Nestle so we are not only as successful as we were in the past 150 years but create a successful company for the generations to follow, for the next 150 years and beyond?"
'Passion and dedication'
Pringles Scorchin' and Cheez-It Loaded Popcorn are among product concepts proposed by Kellogg Co. employees participating in internal innovation competitions. The Battle Creek, Mich.-based company hosts several programs and events designed to nurture an entrepreneurial spirit throughout the organization, said D'anne Hayman, vice president of global innovation and nutrition.
"The intrapreneurial process has evolved over the years," Ms. Hayman said. "Our employees have become savvier as they develop their ideas into opportunities. They involve team members from other functions like finance or supply chain and, in the end, present a more holistic commercial opportunity rather than just a food prototype."
Tiger Tank is an annual competition inspired by "Shark Tank" that solicits business ideas and rewards the winners with funding and support. One winning concept was not a food product but a mobile app update to help low-income families access nutritious foods through the US Special Supplemental Nutrition Program for Women, Infants and Children program.
Kellogg's summer interns also are invited to participate in an annual innovation challenge. One such event produced the idea for Pop-Tarts Bites. This year's challenge was held in partnership with eighteen94 capital, Kellogg's corporate venture capital fund.
"For seven weeks, the interns worked in three groups to develop a new product pitch for one of three participating Kellogg's eighteen94 investment companies, Kuli Kuli, Siren Snacks or Taali Foods," Ms. Hayman said. "Each week, they met with a Kellogg mentor to help guide them, offer feedback and ensure that they were on the right path. They studied their respective businesses and pitched them an idea that could potentially make it to market. We were thoroughly impressed at the creativity, passion and dedication the interns embodied throughout this process."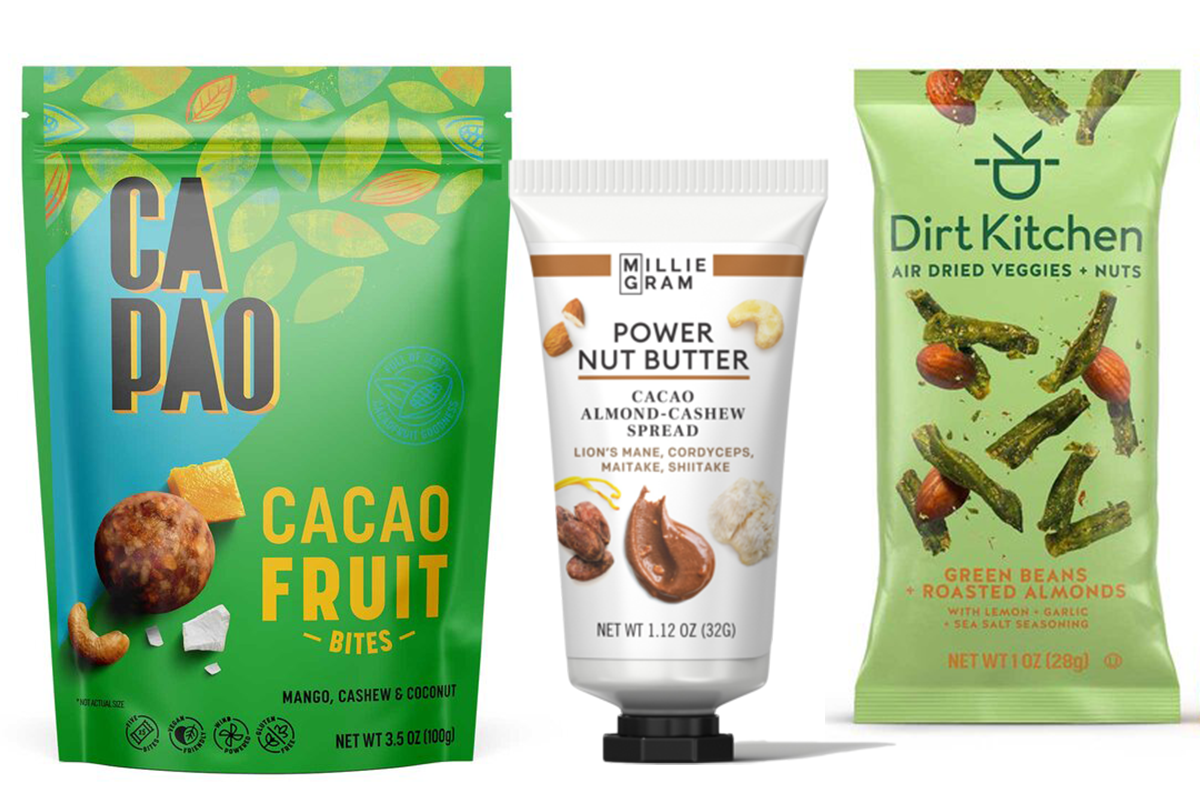 The future of snacking
Several years ago, Mondelez International, Inc., Deerfield, Ill., established SnackFutures, a business unit dedicated to innovating and investing in snacking concepts. Operating independently, a small team comprised of company veterans collaborates with external partners including food scientists, contract manufacturers, retailers and others to quickly develop, test and iterate new propositions. To date, SnackFutures has created and introduced five brands in the United States and Europe.
"We were designed to explore the frontier of snacking, particularly in well-being, where we could find or create incremental opportunities for our consumers," said Brigette Wolf, global head of SnackFutures. "Our mantra for SnackFutures is 'good for people, kind to the planet, deliciously fun.'"
The team has identified opportunities across key areas ranging from functional foods to school snacks. Millie Gram is a brand of nut-based spreads infused with mushroom blends and ingredients such as matcha, cacao and baobab. Ruckus & Co. is a line of children's smoothies formulated with fruits, vegetables and seeds. NoCoé, a sustainable cracker brand available in France, is certified organic and relies on local suppliers and production to reduce carbon footprint.
"These are all new brands, new products, sometimes new technology," said Gil Horsky, global innovation director for SnackFutures. "This is not just making a new flavor of Oreo, which I'm not undermining; that can be a huge business. But it's usually very new spaces for the company."
Another area of innovation is next-generation fruit and vegetable snacking, which inspired the creation of Dirt Kitchen Snacks. The brand's products include air-dried vegetable and nut mixes and air-dried vegetable crisps made from surplus or imperfect zucchini, grape tomatoes and blushed bell peppers, said Katrina Borisjuk, leader of Dirt Kitchen Snacks.
A newer launch from the brand is a line of pressed bars incorporating vegetables, fruits, seeds and nuts with no binders or added sugars. To produce the bars, the team used technology developed by Israeli startup Torr. SnackFutures announced a seed investment in Torr late last year.
The SnackFutures team is not confined by the parent company's brands or categories of cookies, crackers and candy, opening a world of possibilities for product development.
"It always starts with a consumer problem we're trying to solve or an opportunity we're going after, and we rapidly prototype against that packaging, product, brand, name, stories, personalities, until we get something that's really resonating with that design consumer we had in mind," Ms. Borisjuk said.
During a period of transactional learning, typically over the course of a few months, the team tracks key performance indicators on a weekly basis. From there, a product may either expand to dozens more stores, or an idea is refined and tested again. If a product performs poorly in a market test, the team moves on to the next idea.
"I've been working in innovation for a long time," Mr. Horsky said. "If there's no failure in innovation, it means you're not pushing hard enough. It will happen, and we're not scared of it."
Another SnackFutures brand, CaPao, has evolved since its conception several years ago, though the star ingredient has remained the same. CaPao Cacaofruit Bites are formulated with parts of the cacaofruit that traditionally are discarded after cocoa beans are extracted for chocolate production. The team tested multiple formats prior to landing on the current offering, combining the cacaofruit with additional fruits, nuts and seeds. The products are available online and in a limited number of stores in the Los Angeles area.
"It's taken some trial and error to make sure we're finding the right place and the right occasion for consumers to find it and know how to use it," said Shannon Neumann, associate director of SnackFutures innovation.
Nearly all SnackFutures team members previously held roles in innovation, marketing or brand management at Mondelez International, supporting global businesses such as Oreo and Cadbury.
"When you're creating innovation off of an iconic brand like Trident, there's a lot of stakeholders, a lot of expectation," Ms. Neumann said. "There's a larger investment in place. There's the idea of making sure it's ready to go, that it's perfect as it can be.
"When you take that step back and are creating innovation within SnackFutures, it's almost the opposite. It's progress over perfection."
Mr. Horsky described SnackFutures as "a new muscle" the company is building that is enabling faster innovation to meet rapidly evolving consumer needs.
"Of course, we're still learning, and there will be mistakes and failures and improvements over time," he said. "But I think it's becoming a very interesting capability that we're building within the company."