WESTLAKE VILLIAGE, CALIF. — New fruit applications are making their way into the frozen food and snack aisles of supermarkets with Dole Packaged Foods' newest products.
Dole Packaged Foods LLC is known for its packaged and frozen fruit products that are sold in the fresh, center and frozen sections of supermarkets. Now the company is introducing several innovations that will be merchandised in additional grocery store departments.
The new items were introduced at Natural Products Expo West, which was held from March 7-11 in Anaheim, Calif. The products include Dole Wiggles fruit juice gels, Dole Good Crunch fruit bites, Dole Whip frozen treat, Dole Energy Delight fruit juice drink, Dole Digestive Bliss fruit juice drink and Dole light Pineapple juice drink.
The company also is dabbling in a new functional brand called The Secret Nature of Fruit, which features fruit-based vitamin chews to support immunity, focus and energy, and carbonated beverages with probiotics to support digestive health.
The product launches support Dole's transition to a health and wellness-oriented company.
"Health and wellness has seen such an evolution around the United States and around the world and our focus is we're trying to offer better nutritional decisions in every category," said Orzse Hodi, managing director of Dole Package Foods USA.  "We are the most trusted fruit and vegetable company and the most recognized fruit company in the world. (But) we have always behaved as a commodity driven company. As fresh fruit becomes more available for everyone, we're trying to see how can we bring it to them (consumers) at every minute of the day and every journey that they would take."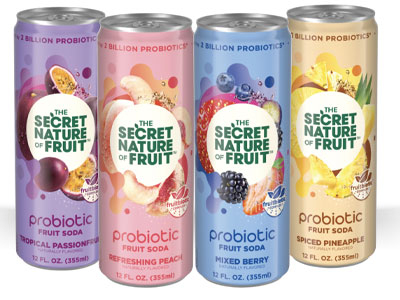 Products in the Secret Nature of Fruit line offer consumers functional benefits. Photo: Dole Packaged Foods, LLC. 
Through market research, Dole identified "stretched strivers" as a group who would be most interested in the new products.
"We're really focused on those stretched strivers who have a hard time getting access to that nutrition," Ms. Hodi said. "We talk to our consumers directly and find out what their needs and desires are and where that space and nutrition (are) lacking. That's how we chose the snacking and ice cream aisles. (They) needed breakthrough innovation that led with fruit."  
Looking forward, Dole intends to include more functional benefits in its products.
"Energy, immunity and digestive (health) are the three major ones that are becoming more desired across the country," Ms. Hodi said. "Digestive health is what we suffer from overall as a population due to lack of a balanced diet, so restoring that is the No. 1 priority. Immunity has always been something that we look to improve especially in light of COVID and (the) flu season. I think what you're going to see come next year it'll be much more pushing the boundaries in those areas."