CHICAGO — A buzzword among food formulators today is upcycling. It's a concept gaining traction among a growing number of consumers and food manufacturers interested in reducing food waste through a circular economy.
Upcycled foods use ingredients that otherwise would not have gone to human consumption. They are procured and produced using verifiable supply chains and have a positive impact on the environment, according to the Upcycled Foods Association, Denver, which formally defined the term in 2020. Formulators and marketers have started quantifying their use of upcycled ingredients and making it part of a product's or product line's point of differentiation.
Innova Market Insights, Arnhem, The Netherlands, has tracked consumer sentiment toward foods formulated with upcycled ingredients for several years. In 2022, the market research firm found more than a third of consumers considered upcycled products to be more appealing than other products, which was up from a quarter the previous year and aligns with consumers' growing interest in sustainability.
"This overall trend provides manufacturers with opportunities for storytelling," said Lu Ann Williams, global insights director at Innova Market Insights. "According to our database of global food and beverage launches, North American food and beverage launches with a food waste and/or upcycling claim experienced 52% average annual growth between 2017 and 2021."
Diverting waste into food
Upcycling is not new. Whey, for example, the byproduct of cheese making, is a versatile ingredient used in many applications. Pectin, a thickening agent, comes from fruit juice manufacturing waste streams. And in the past decade, spent grains from beer production have been getting upcycled into nutrient-dense flours.
Many of the emerging upcycled ingredient innovations complement the plant-based trend, as they are formulated using the skins, seeds and cellulose components of plants that consumers don't want to eat. Natural colors extracted from fruits and vegetables, for example, yield a side stream that may be upcycled into nutrient-dense ingredients. Some produce items used in food manufacturing discard certain components of the fruit or vegetable for aesthetic purposes, while some produce items do not even make it into distribution because they are deemed "ugly."
FutureCeuticals, Momence, Ill., offers a functional ingredient that contains 50% soluble and insoluble dietary fiber from upcycled apples, carrots, blueberries, cranberries and spinach. The ingredient delivers plant-based, intact dietary fiber and polyphenols to the gut. The fiber-bound polyphenols, once inside the gut, are released slowly and act as antioxidants to promote gut health.
The company also offers an ingredient made from the cascara, or skin of the coffee fruit. Historically cascara has been part of the waste stream of the coffee production process. When the cascara is discarded, it decomposes and creates harmful mycotoxins that are released into the environment. FutureCeuticals formulated a sustainable solution that preserves the cascara and repurposes it as an ingredient.
Atlanta-based Up To Good developed an energy drink formulated with upcycled cascara. Unlike the coffee bean, cascara contains antioxidants and other nutrients associated with boosting memory and alertness. To source the cascara, the brand partners with coffee farmers in Central America who practice sustainable agriculture.
Similar to coffee processing, chocolate manufacturing also produces a side stream that is being upcycled into a functional ingredient. Only the beans/seeds are used to make chocolate, and this is only 30% of the cacao fruit, according to Barry Callebaut, Brussels.
The company identified technology to upcycle the 70% side stream into cacao fruit pulp, juice and concentrates that may be used in food applications. For example, the zesty, fruity profile complements ready-to-drink coffee and tea beverages. Its honey-like flavor goes well in sweet products, including ice cream, where the golden brown color of the cacao fruit ingredient also adds visual depth.
Fruit juice processing contributes many side streams that may be upcycled into ingredients. As mentioned, pectin is one of the original upcycled ingredients.
"Pectin is made from the byproducts of juice production, citrus peels and apple pomace," said Christine Addington, principal technical account manager – dairy, Cargill, Minneapolis. "Rather than discard these leftovers, Cargill relies on them to produce pectin, a time-tested ingredient known for its thickening, gelling and protein stabilization properties."
Citrus fiber ingredients also have relied on these fruit juice processing waste streams. Ingredion Inc., Westchester, Ill., has entered this space with what might be called a "double upcycled" ingredient, as the company uses the waste streams from the pectin industry. Ingredion said its new citrus fibers help manufacturers substitute ingredients while providing unique textures and sensory experiences. The citrus fibers also can extend shelf life and stability in numerous applications, including conventional and gluten-free baked foods and snacks, emulsified dressings, tomato-based condiments, processed meats and plant-based meat alternatives. They also control moisture and bind fat in various applications.
Not-from-concentrate juice manufacturer FruitSmart Inc., Prosser, Wash., offers a range of upcycled fruit fibers, powders and oils produced from its juicing side streams.
"Once the juice has been captured, we take the remaining pomace (the skins, pulp and seeds), dry it and then mill it," said Wayne Lutomski, president. "That pomace would go to a landfill or for animal feed previously. Now, it is used for human consumption in a beneficial way."
Chinova Bioworks, Fredericton, New Brunswick, upcycles the stems of white button mushrooms into a preservative. The ingredient effectivley inhibits growth of bacteria, yeast and mold, according to the company.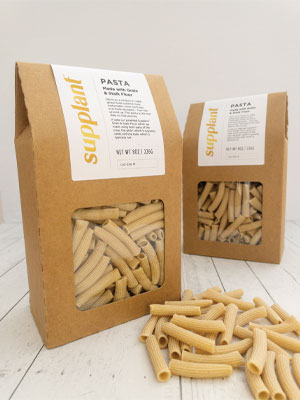 The Supplant Co. products ingredients from the "forgotten half of the harvest." Photo: The Supplant Co.
"It can meet the highest standards of natural preservation without compromising the flavor profile, texture or appearance of the food," said Natasha Dhayagude, co-founder and chief executive officer. "We work with mushroom farmers to harvest the wasted stems and upcycle them into a commercially viable ingredient. The process is similar to how most plant fibers are naturally extracted. It involves drying the mushrooms, grinding them and then using heat and water to purify the fiber from the stems."
Mushrooms require little water to cultivate. They have a short life cycle and are grown throughout the year, which leads to a sustainable supply source.
The Supplant Co., New York, produces ingredients from the "forgotten half of the harvest." The company incorporates underutilized agricultural side streams, such as corn cobs, oat hulls and wheat straw, into its ingredients.
The company's new "grain and stalk flour" is made from both the grain and stalk of the wheat plant, with the latter usually going to ruminant animal feed. The flour performs in baked foods, pasta and other flour-based products, maintaining texture and taste while offering fewer calories and more than six times the fiber of regular wheat flour, according to the company.
Enjoying this content? Learn about more disruptive startups on the Food Entrepreneur page.