CHICAGO — Move over, cold brew. Grass-fed, sparkling and probiotic are just a few of the differentiators in the burgeoning ready-to-drink coffee and tea category. Merchandised in the refrigerator, the ambient beverage aisle and even the liquor department, coffee and tea drinks are being embraced by consumers of all ages due to their positioning as a better-for-you alternative to non-nutritive soft drinks. Part of that healthful halo includes being a concentrated source of antioxidants for support of wellness and longevity, as well as being a natural source of caffeine for energy and alertness.
"Consumers are constantly looking for not only better-for-you beverages, but ones that are challenging the norms in terms of flavor profiles, ingredients and application," said Niko Nikolaou, co-founder of New York-based Cham, a manufacturer of value-added cold-brew tea. "No one should have to settle when it comes to what they put into their body, play guessing games as to where the ingredients came from or worse, assume the words they can't pronounce on the label are safe."
The company made its debut in 2016 with three varieties of bottled functional cold-brew teas containing herbal ingredient blends intended to calm, defend or revitalize. This May, a canned sparkling line will roll out in similar wellness formulations.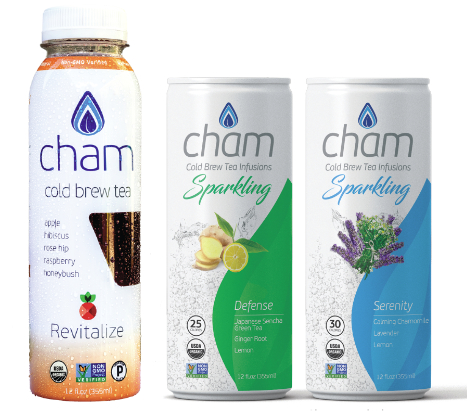 "When we say Cham is never heated, we mean it. Our entire process is focused on maintaining a cold chain of events starting from the initial harvest of our raw ingredients up until it reaches the grocer's shelf," Mr. Nikolaou said. "Our organic herbs and fruits are kept as whole as possible and naturally dried. Our organic raw honey comes directly from our winged little buddies, and our lemons are cold pressed. Even our triple-filtered water that we steep the tea in is kept cold."
Bella Hughes, co-founder and president, Shaka Tea, Honolulu, said, "With the decline of big soda and a move toward more healthful products, coupled with on-the-go lifestyles and a need for convenience, R-.T-.D. teas and coffees that have strong flavor profiles and are low-calorie are the preferred beverage for consumers after water. With our product, we are able to further differentiate by supporting local sustainable Hawaiian agriculture."
Shaka Tea is brewed from a leaf called mamaki, which is only grown in the Hawaiian archipelago. The naturally caffeine-free beverage has no added sugar and is sweetened with a touch of monk fruit. It comes in four tropical-inspired flavors: pineapple mint, mango hibiscus, guava ginger blossom and lemon Lokelani rose.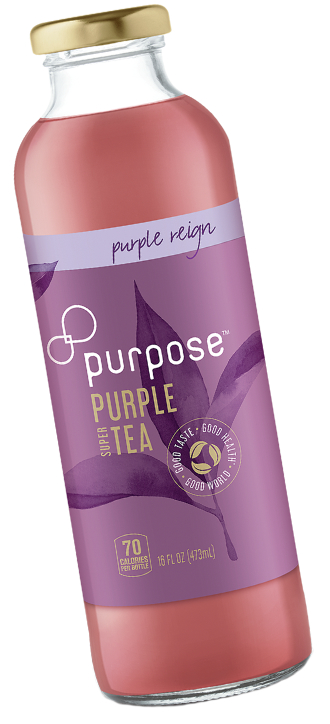 "Mamaki has been used traditionally in native Hawaiian medicine to support general good health, as well as a tonic for various ailments," Ms. Hughes said. "Research shows that mamaki is filled with antioxidants, including up to five times more catechins than green tea, as well as rutin and chlorogenic acid."
Single-source tea is trending. Dallas-based Purpose Tea markets an R-.T.-D. purple tea beverage, which is made from leaves grown exclusively in Kenya.
"Purple tea leaves contain 15 times more anthocyanins than blueberries and have a greater degree of antioxidant activity than either green or black tea," said Chi Nguyen, founder and chief executive officer. "Consumers are becoming more engaged with their teas and want to learn more and more about where their teas come from, how they are harvested and manufactured, how the product supports the livelihoods of those making it, and how friendly the product is to the environment."
Points of differentiation
A discussion of tea must include kombucha, a fermented tea consumed more for its health benefits than as refreshment. The inclusions of special microorganisms yield an effervescent beverage with probiotic function.
Uncle Matt's Organic, Clermont, Fla., a brand acquired by Dean Foods in 2017, is a new entry to the category. Its green tea organic kombucha is brewed over two weeks in small batches using an heirloom culture. Available in blueberry ginger, grapefruit honey, lemon ginger, lemon raspberry ginger and mango, the unpasteurized kombucha contains no added flavors, sweeteners or preservatives. Sweetness comes from not-from-concentrate juice.
"Tea is the most popular beverage in the world, and I believe combining the antioxidant benefits of green tea with the naturally occurring probiotics and organic acids produced from the real brewed fermentation creates a tasty but nutrient-packed beverage," said Matt McLean, founder.
Sunup Inc., New York, has developed an R-.T-.D. coffee that looks and tastes like tea. In fact, the brand's tagline is: "Tastes like a tea. Energizes like a coffee."
"Our coffee tastes like green tea because we never roast the coffee beans," said Nate Pealer, manager. "Using hot water and raw green coffee beans, we are still able to bring all the caffeine of a traditional coffee without any of the bitterness or traditional coffee flavor."
Mr. Pealer said he always preferred coffee made from the lightest roasted beans. He learned that there's no requirement to roast the beans to make coffee, and that's how Sunup came to fruition. The line includes unsweetened and sweetened-with-cane-sugar original products, as well as latte versions of each. The lattes are made with organic whole milk from grass-fed dairy cows.
Grass-fed dairy ingredients are a key differentiator for Picnik, an Austin, Texas-based coffee house that entered the R-.T-.D. coffee category in 2017 with a line of functional coffee-dairy beverages. The shelf-stable drinks feature fair-trade coffee, grass-fed butter, grass-fed whey protein and medium-chain triglyceride (M.C.T.) oil. The company said butter from grass-fed cows fuels the body with a sustained, clean energy that satiates appetite and reduces cravings, while the whey protein from grass-fed sources absorb rapidly into the body to reduce hunger and sustain muscle growth. The M.C.T. oil offers a cognitive boost, supports fat burn and balances mood and hormone levels, while the coffee provides alertness.
Another Austin-based company, High Brew Coffee, is extending its canned cold-brew line with three sparkling varieties. The carbonated drinks are simply coffee, cane sugar and natural flavor, and come in black, mocha and vanilla varieties.
"Sparkling delivers on consumers' desire for refreshment and the trend of sparkling water," said David Smith, founder and c.e.o.
A premium positioning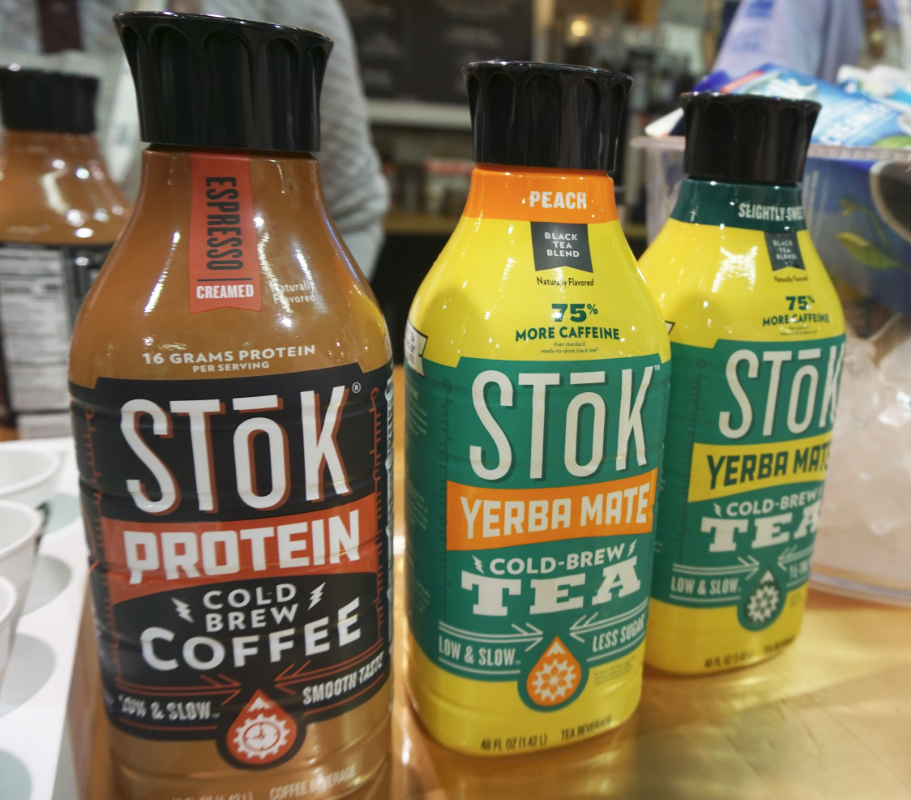 Entrepreneurs are not the only ones going upscale in coffee and tea. Unilever, Englewood Cliffs, N.J., is differentiating in the R.-T.-D. tea category with its Pure Leaf Tea House Collection, which features blends of organic tea, brewed in small batches and flavored with fruits and herbs. Varieties are Fuji apple and ginger green tea, Sicilian lemon and honeysuckle black tea, Valencia orange peel black tea, and wild blackberry and sage black tea. The unique combinations mix the familiar with something exotic appeal to today's adventure-seeking consumer. Many combinations suggest benefits beyond hydration and refreshment.
Denver-based DanoneWave is rolling out Stok Yerba Mate. The slow-brewed yerba mate, which is a species of the holly family (Aquifoliaceae), is said to possess more natural caffeine than coffee along with the health benefits of tea. The Stok product will make its debut in peach and slightly sweet varieties.
The Stok brand, which made its debut in cold-brew coffee, now offers Stok Protein Espresso. Each 12-oz bottle contains 16 grams of milk protein and is being marketed as "fuel for your daily grind."
Coffee roaster and café marketer Emeryville, Calif.-based Peet's Coffee & Tea, a business unit of JAB Holding Co., now offers a line of R-.T-.D. cold-brew coffee bottles. One of its specialties is The Black Tie, which is described as bold, smooth and never bitter. Other offerings include almond milk, au lait, dark chocolate and limited-edition peppermint mocha.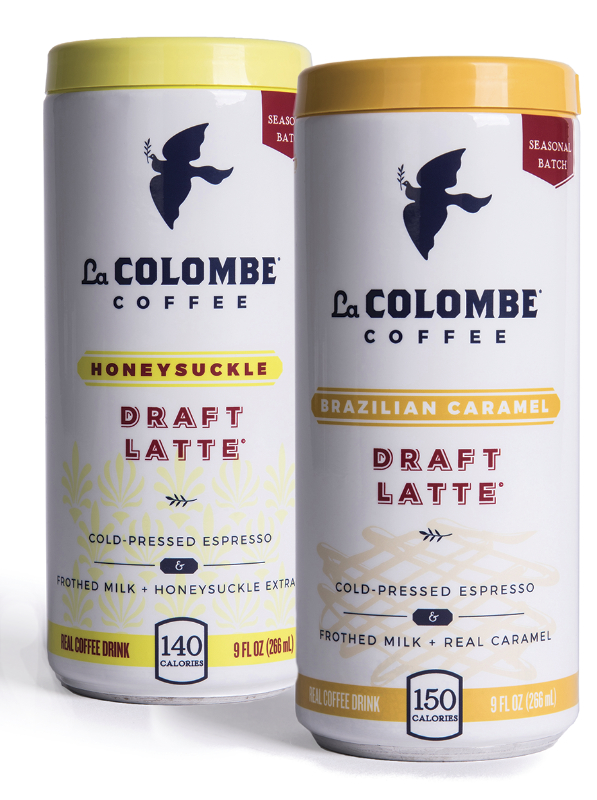 Philadelphia-based La Colombe, another coffee roaster and café company, entered the R-.T-.D. coffee category in 2016 as a major disrupter of the status quo package. What sets the brand apart is its special pressurized can that froths the ingredients when you crack it open. It allows consumers to enjoy the full taste and texture of a true iced latte, complete with a layer of silky foam.
The company's newest draft lattes are caramel and honeysuckle. Additionally, La Colombe is adding single-origin pure black organic cold brew, which is made from lightly roasted Colombian coffee, cold-brewed for more than 16 hours.
"At the core of La Colombe is innovation," said Todd Carmichael, co-founder and c.e.o. "Our newest products are bringing us one step closer to liberating the café menu."
More than coffee and tea
An entire range of beverages includes coffee and tea flavors, without coffee and tea being the focus of the concept. Pop & Bottle, San Francisco, for example, manufactures plant-based R-.T-.D. lattes. Starting with an almond milk base, the company markets cold-brew coffee, matcha green tea and mocha lattes as naturally caffeinated superfoods. An 11-oz bottle of the perishable beverage provides 80 to 100 mg of caffeine.
New vegan Cave Shake, from the namesake Los Angeles-based company, is a line of R-.T-.D. no-sugar-added coconut milk shakes enhanced with M.C.T. oil. The single-serve glass bottles are intended to be shaken and consumed as a sweet treat, just without the added sugar. They are low in carbs and gluten-free. In addition to a coffee flavors, there's chocolate, strawberry and vanilla.
Bolthouse Farms, which is a part of C-Fresh, a division of the Campbell Soup Co., Camden, N.J., has new dairy and non-dairy protein beverage lines, both with coffee and tea varieties. Bolthouse Farms B Strong protein beverages contain 16 grams of protein (from whey) per 15.2-oz bottle with 70% less sugar (16 grams total) than the leading refrigerated protein drink, according to the company. The line comes in chocolate, coffee, vanilla and vanilla chai tea flavors. The non-dairy 1915 Organic Protein line provides 12 grams of pea protein and includes a cold-brew coffee variety.
For those over 21
There is a new take on the classic beverage of half iced tea and half lemonade. Arnold Palmer Spiked Half & Half, a joint partnership between MillerCoors, Chicago, and AriZona Beverages, Woodbury, N.Y., is a non-carbonated blend of iced tea and lemonade with a 5% alcohol-by-volume content.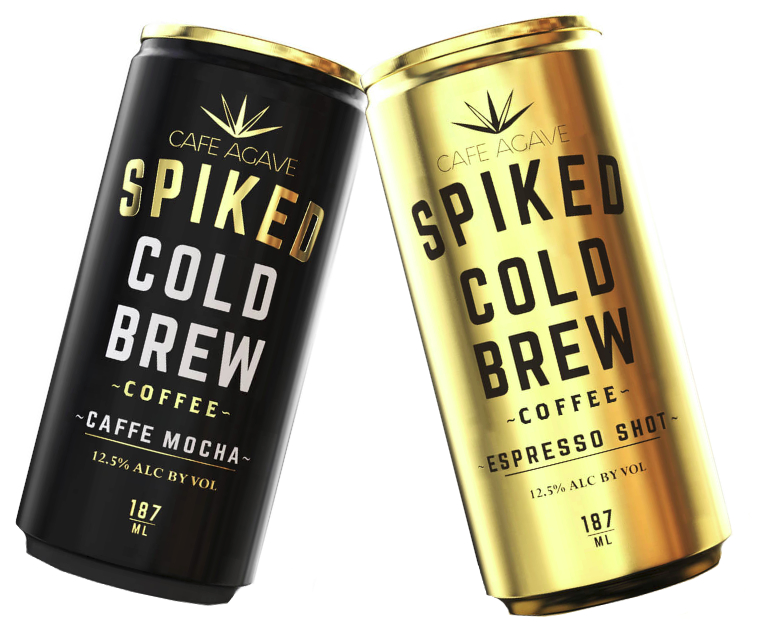 La Jolla, Calif.-based Café Agave is rolling out Spiked Cold Brew Coffee, which is a blend of alcohol, cold-brewed coffee, dairy cream, agave nectar and natural flavors. The wine-based beverage (12.5% alcohol by volume) comes in four flavors: espresso shot, caffe mocha, salted caramel and vanilla cinnamon.
"Cold-brewed coffee is the hottest thing around right now," said Mark Scialdone, co-founder. "Cold-brew coffee is no longer reserved for java aficionados; it now has mass market appeal."
Ami-Lynn Bakshi, co-founder, said, "Cafe Agave Spiked Cold Brew is about a lifestyle. We are constantly on the go, non-stop, 24/7. We talked a lot about how we always start the night with a cup of coffee. And so, Cafe Agave Spiked Cold Brew was born."
The R-.T-.D. coffee and tea consumer will continue to seek new and innovative ways to enjoy their chilled beverage experience, said Mr. Smith.
"This is being driven by younger consumers who like to try many things and expect to have several options when they purchase products," he said. "These consumers are always looking for new usage occasions. As the category further develops, there will be a clearer segmentation among superpremium, mainstream and value products. It will continue to evolve to become more experiential, similar to wine and craft beer."
Beyond beverages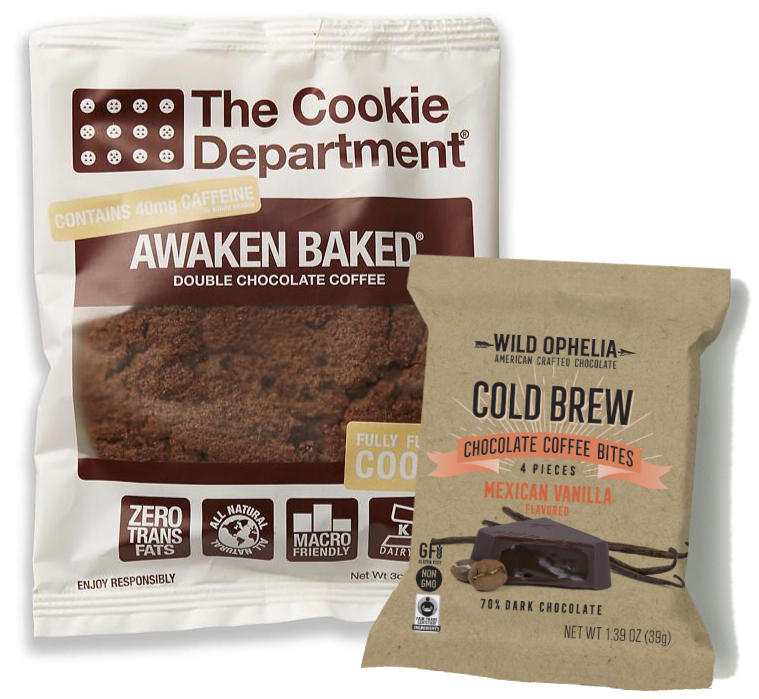 Coffee and tea are more than beverages. Thanks to advancements by ingredient suppliers, both are available in premium extract form for use in varied applications, from baked goods to frozen desserts.
Some innovators, such as High Brew Coffee, a manufacturer of ready-to-drink canned coffee beverages, uses its brewed coffee to get creative with chocolate. The company partnered with Vosges Haut-Chocolat, Chicago, to offer Wild Ophelia Cold Brew Chocolate Coffee Bites. The confections feature a liquid High Brew cold-brew coffee center made with fair-trade, 100% Arabica coffee beans encased in a chocolate shell made with fair-trade, non-G.M.O. chocolate. The caffeinated chocolate edibles come in Jet Black, Mexican Vanilla, Sea Salt Caramel Latte and White Mocha varieties.
"As the ready-to-drink coffee market grows, consumers are looking for more convenient and unique ways to get their fix," said Mr. Smith.
The Cookie Department, San Francisco, believes this, too. The company markets a line of functional cookies, which are classic recipes fortified with innovative ingredients to provide consumers extra benefits. One example is Awaken Baked, a cookie infused with 40 mg of fair trade coffee and chocolate.
A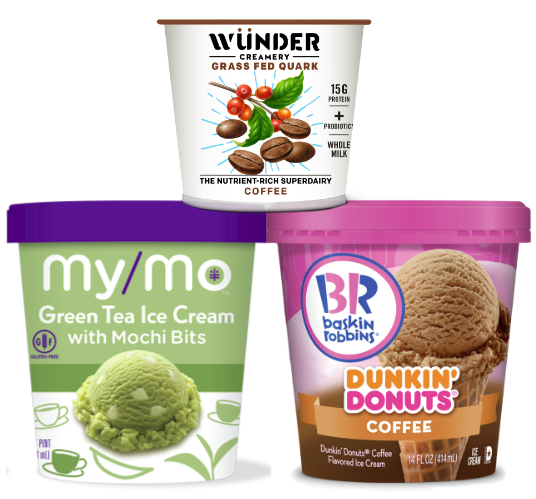 nd, much like how milk or cream are often added to coffee and tea beverages, coffee and tea is getting added to dairy products. The smooth, neutral taste of dairy serves as a welcoming base to these two somewhat bitter ingredients. Misha L.L.C., New York, for example, uses grass-fed whole milk to make its new Wünder Creamery Superdairy Quark, which includes coffee and matcha tea flavors.
Both are also finding their way into ice cream. My/Mo Mochi Ice Cream, Los Angeles, offers its traditional mochi (ice cream balls wrapped in soft, sweetened rice dough) and its new pints in a green tea flavor. Boardwalk Frozen Treats L.L.C., Lafayette, Calif., which licenses the Baskin-Robbins ice cream brand from Dunkin' Brands Group, Canton, Mass., is rolling out Dunkin' Donuts branded ice creams. The three varieties — original, chocolate chip and French vanilla — are all made with Dunkin's signature coffee.