KANSAS CITY — Dairy Farmers of America (D.F.A.) said its industry is often seen as heritage-based, and not always at the forefront of what's next. From compound butters to A.I.-powered smartphone platforms, the farmer-owned dairy cooperative is aiming to lead the technology and innovation charge by forging long-term partnerships with up-and-coming companies.
Launched in 2017, D.F.A.'s accelerator program brings together small start-ups and entrepreneurs in two verticals — ag tech and dairy food products — with industry leaders to bring new, innovative solutions to the cooperative's family-farm owners.
"The idea was to come up with a list of what strategically made sense to us and to try and find the start-ups that align with that," said Doug Dresslaer, director of innovation at D.F.A.
Dairy aisle innovation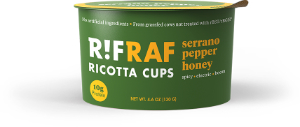 Three food product companies participated in this year's program. Numa, Bridgewater, N.J., makes chewy milk treats with six ingredients and four grams of protein. RifRaf, Brooklyn, N.Y., offers creamy ricotta cups that combine cheese with several flavors, including sun-dried tomato, Meyer lemon, strawberry balsamic, wild-flower honey and serrano pepper. Brooklyn Buttery, Brooklyn, makes compound butters that come in a variety of flavors such as sea salt, sriracha, lemon and maple.
"We did a better job of getting the food companies in front of food investors and other food start-ups from our region this year," Mr. Dresslaer said. "That really helped them understand distribution and investment and how to get products to shelves. We also brought in experts around online and e-commerce, because that's how a lot of these guys are going to market."
Josh Green, founder and chief executive officer of Brooklyn Buttery, said the biggest takeaway of the program was realizing how much he still had to learn.
"I think it's incredibly humbling being in a room of people with decades of experience in the dairy product space and having them give you advice and educating you," he said.
Unlocking the future of farming
Three ag tech companies participated in the 2019 accelerator program. Bezoar Laboratories, Bryan, Texas, is a research and development company focused on improving the dairy and beef industries with microbial solutions. The company's latest innovation is Paenibacillus fortis, a patent-pending probiotic that reduces methane emissions from cattle by 50% when paired with nitrate. Healthy Cow, Toronto, is an ag-biotechnology that boosts cows' immunity, microbiome and metabolic health before and during periods of critical stress.
The third ag tech company, Boston-based Labby, developed a smartphone platform powered by artificial intelligence. The company's platform allows farmers to instantly test each cow's milk quality and composition on a daily rather than monthly basis. Farmers may use the technology to identify under-performing or sick cows and prevent bulk contamination.
"The younger farm owners love this stuff because they've all grown up with technology," Mr. Dresslaer said. "The more seasoned of our members, it's all about the bottom line and how easy the technology is to use. We want to tell them, 'You're not going to notice anything. Your day-to-day is going to stay the same, but we're going to make you more money because you're using this product or service.' We always start with the results, with the problem that's being solved."
Forging long-term partnerships
Dairy Farmers of America continues to work with every company that has participated in the accelerator program.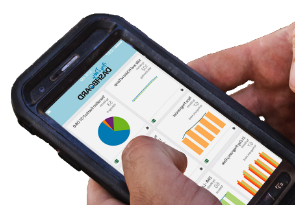 "We're not looking just to make a 90-day, survivor-style program where everyone is vying against each other, there's a big winner, we all celebrate, put out some cool messaging into the press, get our name beside a really cool company and six other companies go find another way," said Justin McCarthy, public relations manager at D.F.A. "We're not going to abandon relationships, because ultimately it is these long-term relationships that we're after."
My Dairy Dashboard, Madison, Wis., participated in the first D.F.A. accelerator program in 2017 and exemplifies the kinds of relationships D.F.A. is after. The company developed an online technology hub that connects and visualizes data for dairy producers.
"They came in with some software and an idea, and now they're a full-fledged partner of D.F.A.," Mr. Dresslaer said. "Now they are a part of our portal, so members can get in there and look at the data and even analyze or predict what's coming."
SomaDetect, Buffalo, N.Y., an in-line sensing program that shoots light through milk to read somatic cells and other information, participated in last year's program. Since then, D.F.A. has made an equity investment in the company, gained a seat on its board and is planning to sell the sensors to its members as testing wraps up.
D.F.A. also has invested in MoPro, a Birmingham, Mich.-based high-protein yogurt company. In addition to the investment, D.F.A. secured a contract with a copacker who will package the company's product.
This year, D.F.A. signed a deal with Healthy Cow to run a pilot in three different states, with the hopes of selling the product to its members.
Whether it's generating more demand for dairy, creating more efficiencies or introducing new processes, D.F.A. said its goal is always to create value for its members.
"When we say value, it's ensuring that we can continue," Mr. McCarthy said. "It's ensuring that there is a place for their milk to go and that we're making better family farms."