CHICAGO — The term tea attracts consumers seeking better-for-you beverages. There is something holistic about steeping water in leaves and herbs, knowing their inherent goodness is being extracted and will be ready for sipping. Tea is the original plant-based beverage, and it has become a star in today's diverse beverage world due to a growing toolbox of ingredients that makes it easier to innovate.
Tea is the most widely consumed beverage in the world next to water and may be found in almost 80% of all US households, according to the Tea Association of the USA Inc., New York. On any given day, more than 159 million Americans are drinking tea. The United States is unique in its tea consumption, with about 80% consumed chilled or iced, either prepared at home or purchased in a ready-to-drink (RTD) format.
The latter category had been showing impressive growth over the past decade, as consumers embraced RTD tea as an alternative to sugary, non-nutritive soft drinks. Tea's health halo includes being a concentrated source of antioxidants for support of wellness and longevity, as well as being a natural source of caffeine for energy and alertness.
While innovators have been creative with flavors, formats and functional extras, in 2019 sales of RTD tea declined about 1%. The decline is attributed to competition from other better-for-you beverages entering the marketplace, according to the Tea Association, which expects the category to generate a modest growth rate of 1% to 3% annually over the next five years.
As consumers shift to a more mindful approach to products promoting health and wellness, the self-care benefits of tea are evident, but the sophisticated consumer also wants great taste, according to research from Symrise, Teterboro, NJ. Many consumers want extra benefits, too.
It is not enough to be simply tea. Cold brew, probiotic and sparkling are some of the differentiators innovators are employing to stand out. Merchandised in the refrigerator, the ambient beverage aisle and even the liquor department, tea is both beverage and infusion, meaning it's a base as well as a beverage enhancement.
"Consumers have been opting to eliminate soft drinks to improve their diets, but they still want refreshment and taste satisfaction," said John Harper Crandall, vice president of sales, Amelia Bay, Johns Creek, Ga. "People connect tea with the words antioxidants, hydration and replenishment. Since they perceive tea-based beverages as natural and healthy, many consumers are now choosing RTD tea for every day, all day enjoyment."
Tools in the ingredient toolbox
A premium RTD tea beverage requires quality ingredients. It starts with brewed tea for authentic taste and appearance that shines through in the final formulation.
Many beverage manufacturers do not have the ability to or do not want to brew tea leaves on site. Ingredient suppliers do this for them and provide concentrated forms of brewed tea for dilution in the manufacturing plant. Such brewed tea is optimized for ease of use and stability. It may be used with hot or cold fill processes and packaged into any type of container.
The flexible nature of naturally brewed tea allows for the creation of on-trend beverages, including everything from a complex-flavored chai latte to a tea-infused hard seltzer for the 21-and older crowd.
Depending on the application, beverage developers may opt for concentrates or powders, as well as syrups or simple flavor extracts, as the ingredients are more economical and consistent than freshly brewed tea. Soluble or instant tea pre-mixes make it easy to bottle tea. The pre-mixes contain tea powders, often along with flavors such as lemon, peach or raspberry. Sometimes the sweetener can be part of the system for extra simplicity. When oil-based flavors or other lipid-containing ingredients are part of an RTD tea, they should be processed in a way to keep them in solution, as oil droplets floating in tea are highly undesirable.
All "real" tea is made from leaves of the same evergreen plant: Camellia sinensis. The leaves are processed differently to achieve varying flavor dimensions.
Traditional black tea undergoes a full fermentation step after the leaves have been picked. The step is not a microbial fermentation but rather a series of reactions caused by the natural enzymes in the tea leaf that produce thousands of natural compounds. Oolong tea undergoes a partial fermentation, while green and white tea undergoes almost no fermentation.
Dark teas are fermented after manufacture and comprise the growing category of kombucha, a beverage known more for its health benefits than as refreshment. The inclusions of special microorganisms yield an effervescent beverage with probiotic function.
Herbal teas are not real tea, as they are not derived from the C. sinensis plant. Within the tea industry, herbal teas are classified as tisanes.
About 84% of all tea consumed by Americans in 2019 was black tea, according to the Tea Association, and 15% was green tea. The small remaining amount was oolong, white and dark tea. Approximately four in five consumers drink tea, with millennials being the most likely, according to the Tea Association.
Innovators are getting creative with packaged and foodservice options. Dunkin' Brands Group, Inc., Canton, Mass., now offers Dunkin' Refreshers iced beverages, which are made with iced green tea, flavored fruit concentrate and B vitamins. The drink comes in peach passionfruit and strawberry dragonfruit flavors.
Nestle USA, Bridgewater, NJ, is differentiating with Nestea Flash Brewed tea. Sourced from the high-altitude tea region of Nilgiri in India, the flash-brewed product range is prepared using an aseptic fill process known to better preserve nutrients and retain flavor. The teas are available in three flavors — black lemon, black peach and green raspberry — and all are prepared without preservatives or artificial flavors. A 17.6-oz bottle contains 100 calories as a result of being sweetened with a combination of beet sugar and stevia extract.
Ito En North America, New York, is adding jasmine milk tea to its milk tea line that includes black and matcha green varieties. Brewed with green tea leaves scented with jasmine flowers and natural ingredients, the RTD beverage offers an on-the-go cafe experience, according to the company.
Boulder, Colo.-based HopTea developed an alcohol-free beverage made with organic tea leaves and hops. The hops are added to the brew to extract complementary herbal and citrus notes before the beverage is carbonated and canned. Flavor varieties include black tea with simcoe and citra hops, green tea with mosaic hops, chamomile with citra hops and white tea with lemondrop and simcoe hops. The result is a sparkling tea with the subtle bitterness of a freshly poured beer.
Some RTD teas contain alcohol. Mawby Bubbs, for example, is a 6% alcohol sparkling wine infused with organic teas. Produced by Mawby, Suttons Bay, Mich., the Sunlight variety is based on white wine while Tropical is made with rosé wine and passionfruit juice.
With 90 calories and no sugar, Loverboy is a naturally sweetened sparkling hard tea from the same-named New York City company. Carbonated like a seltzer, but with the light refreshing taste of an iced tea, Loverboy marries organic brewed tea, botanicals and monk fruit with gluten-free alcohol to create a keto-friendly, 4.2% alcohol adult beverage.
"Sparkling tea continues to gain traction because consumers are embracing carbonated beverages with less sugar and more natural ingredients than traditional soda," said Holly McHugh, marketing associate, Imbibe Inc., Niles, Ill. "Several teas with novel herbal ingredients have also launched over the last few years. Tea is also becoming a popular ingredient in clean energy drinks."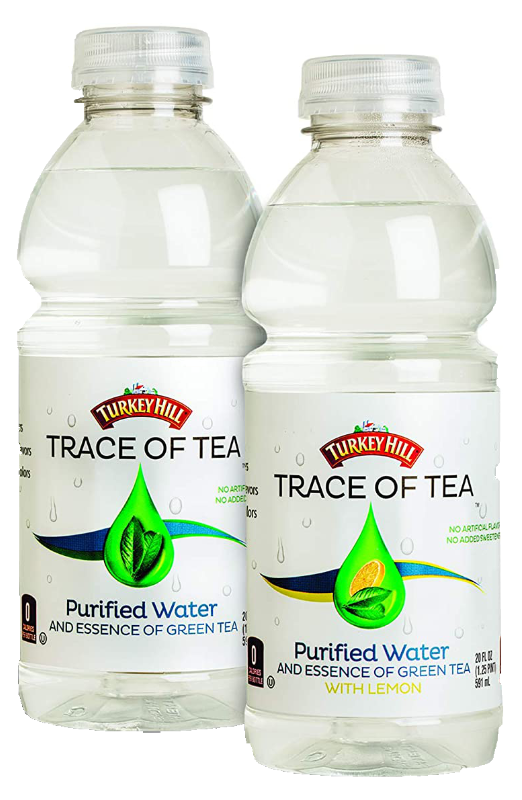 Nestle Waters North America, Stamford, Conn., is entering the energy water category with its Poland Spring brand. The 340-mL slim cans of sparkling water contain the same amount of caffeine as a cup of coffee but uses green tea extract instead as its caffeine source. The beverages are sweetened with agave syrup, delivering 35 calories per can. Flavors are berry, Meyer lemon, Valencia orange and white peach.
New Agua Bucha from Mother Kombucha, St. Petersburg, Fla., is a kombucha-infused carbonated water. It is described as a crisp, refreshing sparkling water enhanced with the naturally occurring B vitamins and organic acids found in kombucha. A proprietary process ensures Agua Bucha is shelf stable without pasteurization and all nutrition is derived naturally from the kombucha. It comes in three certified organic flavors — grapefruit, key lime and Meyer lemon — with each 12-oz can containing just 4 calories from the 1 gram of sugar added for sweetness.
Turkey Hill Dairy, Conestoga, Pa., now offers Trace of Tea Water. The beverage is purified water with tea essence, which are aromatic flavors released during the brewing process. The RTD beverage contains no calories, no sweeteners and no artificial colors or flavors. And while made with tea essence, it does not claim to contain any caffeine.
"Consumers are thirsty for unique sensory experiences, which has contributed to the success of bubble tea in foodservice," Ms. McHugh said. "Innovators are now recreating this texture in ready-to-drink beverages."
DD&B Solutions LLC, Newark, NJ, now offers Ino Tea Bubble Tea lattes with tapioca pearls in 16.6-oz shelf-stable cans. The lattes are made with either brewed black tea or matcha green tea powder and whole milk powder.