CHICAGO — With a plethora of cannabidiol (CBD) beverages in the marketplace, it surprises some to learn they are technically illegal. It is not a gray area, nor is it something some states allow. They are illegal, but they are out there. In fact, the CBD drink category had more new product introductions than any other no-alcohol, ready-to-drink beverage category in the first quarter of 2020, according to Beverage Marketing Corp., New York.
Derived from hemp or marijuana, both part of the herbaceous flowering plant known as Cannabis sativa, CBD is a non-psychoactive compound known for its health and wellness properties. Consumption is associated with relaxation, pain relief, improved sleep, positive mood, better memory and stress response. It is not to be confused with delta-9-tetrahydrocannabinol (THC), the compound responsible for the feeling commonly referred to as "stoned."
In the United States, as of Dec. 20, 2018, hemp-derived cannabis ingredients with less than 0.3% on a dry weight basis of THC may be sold in commercial consumer products such as tinctures or extracts. The US Food and Drug Administration does not recognize CBD as a food or beverage ingredient nor as a dietary supplement; however, the agency is currently not stopping its use in most cases, and innovators are taking their chances.
"The CBD-infused beverage market is currently in limbo as the federal government has yet to issue final guidelines on whether CBD is permissible in food and drink, and, if so, at what dosages," said Gary Hemphill, managing director of research at Beverage Marketing Corp. "Initial hearings were held in spring 2019, but there still has been no guidance, hampered not only by the inherent slowness of government but also other issues taking obvious priority.
"A recent FDA report seemed to splash further cold water on the segment, claiming that about half of products contain more than 0.3% THC by dry weight, but are not identified as containing THC on labels, and that a majority of the products it tested contained either 20% less or 20% more CBD than what is stated on labels."
The FDA has provided no guidance other than declaring illegal any products that are explicitly marketed as CBD or make benefit claims, Mr. Hemphill said.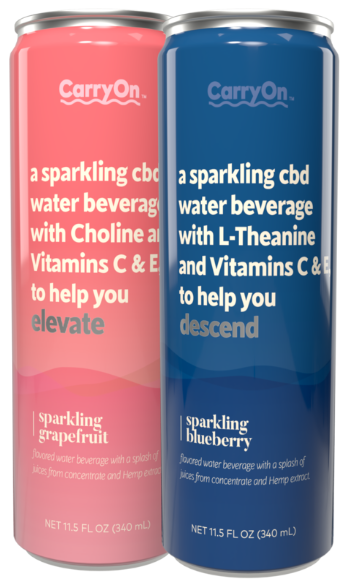 "This has driven many hemp marketers to remove CBD from labels and call their products full-spectrum hemp and indicate on label that the product contains cannabinoids," he said.
The Beverage Marketing Corp. valued the CBD beverage category at about $160 million in 2019 and expects it to double this year. The category is predicted to reach more than $1 billion in 2023.
"Although the legal and regulatory uncertainty has blunted the trajectory of cannabis-infused beverages, the segment has still grown rapidly, albeit from a small base," Mr. Hemphill said. "This may provide a benefit to entrepreneurs to gain a first-mover advantage in the segment while the big strategics sit on the sidelines."
Most players in the space are startups, with a few exceptions. Ocean Spray Cranberries Inc., Lakeville-Middleboro, Mass., has launched CarryOn CBD sparkling waters. It comes in two blends, Elevate and Descend, each containing vitamins C and E, no added sugar and 10 calories per 11.5-oz can. Elevate is a sparkling grapefruit flavor that blends choline for energy and focus with 10 mg of CBD. Descend, a sparkling blueberry flavor was formulated for relaxation. It contains L-theanine for calmness and 20 mg of CBD.
"We believe mental well-being should be as second nature as physical fitness, and so we set out to create a CBD beverage that provides real functional benefits like focus and relaxation," said Josh Wiesman, co-developer of CarryOn. "We understood there was a gap in the market for a trustworthy CBD beverage that tastes good and also helps calm the mind without unwanted side effects."
More than half of Americans reported negative effects on their mental well-being from the coronavirus (COVID-19) crisis, according to a July 2020 KFF Health Tracking Poll. This figure was up from about 40% in May.
Beverages as carrier
"Beverages are easy to add to your daily routine," said Michelle Sundquist, director of product development, Sorse Technology, Seattle. "But remember, all CBD products are not created equal."
Josh Snyder, chief executive officer and founder, The Niva Labs, Los Angeles, said, "But beverages are also one of the more challenging products to add CBD to because you are adding oil to water. It is necessary to work with a CBD emulsion."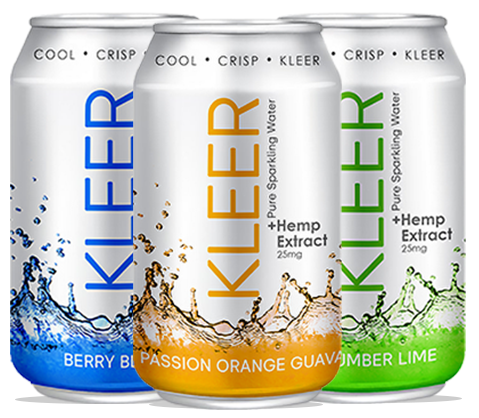 Emulsion technology converts the thick, oily raw material extracted from the cannabis plant into a water-soluble format. The oil contains odorous terpenes, which suppliers of CBD isolate and remove.
Mr. Snyder said one of the biggest issues in beverage is separation. The CBD also may breakdown or interfere with other ingredients, such as colors and flavors, causing them to disintegrate.
"You cannot assume any given emulsion is compatible with any base," he said. "Another consideration is the package. With cans, the CBD emulsion may be absorbed by the liner of the can. If the package is glass, the bottle should have an amber tint, as cannabinoids are light sensitive. Every beverage is unique."
Users are unique, too. Consumers vary in the reason why they may select a CBD beverage.
"You need to select your target audience, both retailer and consumer," Ms. Sundquist said. "This influences the product formulation and the CBD ingredient.
"If the beverage is to have a clean, specific flavor profile, then use a CBD isolate. Some consumers want the beverage to have cannabis flavor. They want to taste the terpenes. In that case, choose either a full or broad spectrum CBD. Broad spectrum typically has the strongest flavor as it contains some plant material, which contributes earthy, botanical notes."
When choosing an emulsion, a formulator wants to ensure it distributes uniformly throughout the final product and stays in solution. It should be stable and bioavailable throughout shelf life to deliver the claimed dosage, with the full effect kicking in about 10 to 20 minutes after consumption.
"There's a wide range of dosing in the beverage marketplace," Ms. Sundquist said. "That's why it's so important to know your audience. You need to know what kind of experience they hope to have from the beverage."
She said the average recovery drink typically contains about 25 mg of CBD. A relaxation beverage such as an herbal tea will contain less, more like 10 to 15 mg. Sparkling waters range from 15 to 30 mg.
"Dosage control is a challenge," Ms. Sundquist said. "You don't know how many beverages or how often they will be consumed. The experience should be reliable and repeatable."
That experience, however, cannot be claimed on the product label. That is usually the reason the FDA sends a warning letter.
"Structure-function claims on CBD are illegal," Ms. Sundquist said. "Any claims made should only be about the other ingredients in the beverage."
A rapidly expanding marketplace
The addition of functional ingredients is how Chicago-based Tempo communicates the benefits of its products. The beverage brand uses formulations that build on select cannabinoid extracts with unique blends of herbs designed to help customers stay balanced and focused throughout the day.
The CBD-infused (25 mg) sparkling teas made their debut in matcha, green tea and hibiscus tea varieties. Two new flavors — green tea with ginger and turmeric, and hibiscus tea with blackberry and lemon — will soon be added to the lineup.
"Our new line of CBD-infused sparkling teas was created to help people rebalance and 'set their own tempo' during the day," said Ryan Crane, CEO. "Whether it's when you wake up, before you go to bed, while you're working during the day or as a substitute for an afternoon coffee or alcoholic nightcap, Tempo is designed to give you an uplifting boost that doesn't fall short on flavor."
All of Tempo's beverages are analyzed by a third-party lab to confirm CBD content before they reach store shelves. Each can contains a QR code that links directly to an updated list of the lab results, providing transparency that allows customers to feel confident in the quality, authenticity and reliability.
Lifeaid Beverage Co., Santa Cruz, Calif., is using a THC-free broad-spectrum hemp blend made through a patented nano-encapsulation process, which makes it faster absorbing, more bioavailable and water soluble, according to the company. Produced using certified organic, regeneratively grown plants, the CBD is free of synthetic or synthetically modified compounds and is third-party batch tested for volatile organic compounds, pesticides, herbicides, microbes, terpenes and cannabinoids.
One 12-oz can contains 40 calories and other functional ingredients. Lemon, for example, includes lemon balm and rosemary.
"The addition of high-quality CBD in beverages has potential benefits when consumed before, during and after exercise or intense physical activity," said Aaron Hinde, co-founder of Lifeaid Beverage. "As formulators and marketers of recovery drinks we are only beginning to tap into that potential."
Kleer Water LLC, Woodinville, Wash., uses a CBD emulsion to enhance its sparkling waters, delivering 25 mg per 12-oz can. The company says drinking Kleer is best described as gently relaxing. The effect is subtle and mellowing. The sparkling water helps relax muscles and "kleers" out symptoms related to anxiety, stress and mental fatigue, according to the company.