CHICAGO — Few snack categories have experienced as much change during the past decade as snacks made from meat. Not too long ago, when a consumer heard the term meat snack, highly processed meat sticks or jerky sitting by the register at a convenience store likely came to mind. Today, meat snacks can be found in the fridge, freezer and ambient aisle. Some retailers have dedicated highly desirable end-cap displays to the growing number of shelf-stable products rolling out into the marketplace. Sports stores carry them, as they have become the go-to snack for backpackers. You will also find them at airport kiosks, coffee shops and even vending machines. And many of them are touting the fact that they are clean-label snacks for the protein-seeking consumer.
It's worth noting how meat snacks have become all the rage at the same time as plant-based foods. It's been made possible through careful ingredient selection and artisan craftmanship, with category growth fueled by the growing number of consumers who prefer to snack multiple times a day rather than eat three square meals.
"America is a nation of snackers and we're no longer as averse to snacking as we once were. Instead, snacking is viewed as a way to have a quick bite in between meals or as a convenient meal side," said Darren Seifer, food and beverage analyst, The NPD Group, Chicago. "Snacking is woven into the fabric of our daily lives, and this way of thinking provides endless opportunities for food and snack marketers."
During the past five years, Americans added 25 between-meal snacking occasions per capita, from 505 between-meal snacking occasions per capita in 2015 to 530 in 2020, according to NPD's Eating Patterns in America, an annual compilation of the company's daily tracking of the who, what, when, where, why and how of US consumers' eating behaviors. Consumption of snack foods at meals increased from 21% in 2010 to 26% in 2020.
All these snacking occasions have driven consumers to be more aware of their choices. Mindful snacking is all about choosing better-for-you foods as mini meals, rather than traditional snacks from years ago, which tended to be high-carb, high-fat, nutrient-void treats. Many mindful snackers are following higher-protein diets, making meat and poultry snacks attractive options.
"There's this pursuit of protein and nutrient density in snacks, as well as global flavors," said David Wright, senior manager – marketing, The Hartman Group, Bellevue, Wash. "This is especially true of younger consumers, Gen Z and millennials. They are really open to those kinds of experiences in their food."
Snacking insights published in July 2021 by Cincinnati-based data powerhouse 84.51°, a wholly owned subsidiary of The Kroger Co., state that while popcorn was a favorite snack early in the pandemic, showing almost 50% growth year over year as families turned to movie and game nights at home for entertainment, sales have largely subsided. Meat snacks are gaining momentum into 2021, which is in line with consumer aspirations for healthier lifestyles.
"Eating healthier is a long-term consumer trend in America that is here to stay, yet most of the snacks in America are highly processed foods with little true nutritional value," said Jaxie Alt, co-chief executive officer and chief marketing officer, Stryve Foods LLC, Plano, Texas, manufacturers of zero-sugar meat snacks. "Consumers are really gravitating to this idea of super high protein and no sugar."
Joe Oblas, co-CEO and co-founder of Stryve Foods, said, "We firmly believe that Stryve is well-positioned to capitalize on favorable better snacking trends as well as the considerable whitespace for health-driven innovation in what remains a large, fragmented category with underdeveloped channels."
Fridge and freezer
Even before the pandemic, perishable meat snacks were gaining momentum, as consumers sought out high-protein, low-carbohydrate mini meals. Options in the freezer remain sparce, with most frozen meat snacks being bite-sized portions of breaded and seasoned chicken. They may come in portion packs for individual servings, sometimes even with a dipping sauce side. However, the fact that they require preparation – microwaving – limits their appeal as a quick, on-the-go snack.
With perishable meat snacks, the action is in the refrigerator, where meat cubes, slices and strips often get paired with cheese, maybe with some nuts, dried fruit or crackers. Sometimes it's just meat.
John Soules Foods, Tyler, Texas, for example, developed a line of refrigerated seasoned all-natural chicken bites sold in 3-oz portion packs. Varieties include agave citrus, blackened, fajita, lemon herb and Thai-style chili teriyaki. The blackened variety's ingredient list is the simplest. It reads "boneless, skinless chicken breast, water, contains less than 2% of the following: salt, dehydrated garlic, dehydrated onion, spices, potato starch, vinegar, yeast extract and citrus extract."
Chicken cubes are getting vended, too. Chicago-based Farmers Fridge provides better-for-you fresh food through company-owned vending machines placed in airports, hospitals and office buildings. Since the pandemic, many products are now in retail and quick-service, with home delivery also available. Foods are packed in recyclable plastic jars, including the chicken breast cubes snack pack, which comes in grilled and blackened variants. The latter is seasoned with smoked paprika, chili powder, cumin, garlic, lemon and salt.
Back at the supermarket, Hormel Foods Corp., Austin, Minn., continues to grow its Columbus Craft Meats brand with the launch of Columbus Pepperoni Paninos. Made with select cuts of pork and a proprietary blend of spices, the dry-cured and slow-aged premium pepperoni is rolled with mozzarella cheese.
"We're seeing a sharp increase year over year in two consumer trends: grab-and-go snacking and entertaining with charcuterie," said Henry Hsia, director of marketing at Columbus Craft Meats.
Tony Migacz, owner of The Cheesewich Factory, Hodgkins, Ill., believes charcuterie should be convenient enough to be enjoyed when out in nature.
"I was on a fishing trip and my sandwich got wet," he said. "So, I tossed the bread and ate the salami and cheese. This was the beginning of Cheesewich.
"Cheesewich is a unique hand-held combo of cheese and meat, two slices of cheese with a slice of either pepperoni or salami in the center," Migacz said. "It was designed with today's fast-paced, health-conscious consumer in mind. Each 2.5-oz vacuum-sealed serving has a refrigerated six-month shelf life. There are even all-natural options with nitrate-free meat."
The company's newest meat snacks are all about uncured turkey bacon. There's Bacon & Egg, which is a pack of two bacon slices and two hardboiled eggs, and the Baconwich. This is a string of mozzarella accompanied by a slice of bacon.
"Our new Breakfast Taco received a Most Innovative Products award at the Sweets & Snacks Expo in June," Migacz said. "It features a flour tortilla with an ounce of scrambled eggs, an ounce of cheese and three strips of uncured turkey bacon. The individual 3.2-oz taco is vacuum sealed to lock in flavor and provides 17 grams of on-the-go protein."
Convenient and shelf stable
Bars, chips, slices and sticks, these are some of the many formats one finds in today's ambient meat snack department. These are no longer just comminuted meat products packed with sodium and preservatives, rather they have evolved into premium, high-protein flavor adventures that appeal to everyone from the convenience-store shopper looking for a quick snack to the triathlete needing an energy boost.
They are made from farm-style livestock, as well as wild game. Certifications such as gluten free, organic and non-GMO are common, as are claims of compliance to diets such keto, paleo and Whole30. Formulators are getting more creative with flavors and meat sourcing, many flagging features such as grass-fed cattle and free-range poultry.
While they vary in texture – sticks resemble mini sausages and are somewhat pliable while jerky, which contains very little fat has a steak-like chew – they all are low in moisture. Removing moisture from all types of food, including highly perishable meat and poultry, is one of the oldest forms of preservation. The art of drying meat by hanging a slab out in the sun dates back to nomadic societies who relied on this preservation technique to maintain an ample supply of energy-dense, non-perishable food while they traversed the lands.
The beauty of the drying process is that it may be very simple and with few, and familiar, ingredients. Dried meat products are also ideal carriers for all types of flavors, from seasonings infused through marinades to textured rubs on the surface.
There are two basic approaches to producing dried flavored meat snacks. The common industrial process involves marinating the meat, either through soaking or injection, followed by a low-heat, long-bake process to dry the meat rather than cook it. A commercial dehydrator is also an option. The second approach is hanging the meat to dry.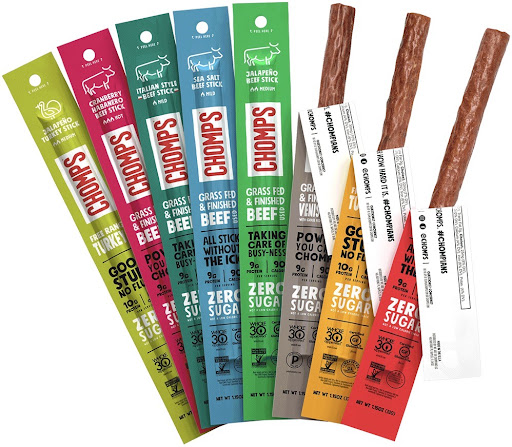 Stryve Foods uses the latter approach to produce its slices of beef biltong. The company skips the marinade and instead covers the exterior of the meat with herbs and spices prior to hanging out to dry. The process of air-drying meat versus cooking, as is done with beef jerky, yields a product that has 40% to 50% more protein per serving than beef jerky. Biltong varies in texture based on the fat content of the meat cut. A lean biltong will be dry and crumbly, while a rich biltong will be soft and chewy. Stryve's product is on the drier side.
"The No. 2 ingredient in jerky is water," Alt said. "We don't have that. We dry out our meat. What you are left with is something that tastes like steak. The clean panel is important to us."
The meat snacks are made with choice top-round beef with the fat trimmed off. The meat is washed with all-natural vinegar and sliced into steaks. These are naturally air dried for up to 21 days and never cooked. The snacks contain no sugar, monosodium glutamate, gluten, nitrates, nitrites or preservatives and are keto and paleo diet friendly. It is made simply with beef, vinegar and spices and served in slices, sticks or slabs.
Marshfield, Wis.-based Wenzel's Farm, hand crafts its meat snacks in small batches. The company's meat sticks come in flavor combinations such as beef with bacon, ham with Swiss and mango habanero pork and beef.
Last year, the company added beef jerky to its lineup. Consistent with its other meat snacks, the jerky has no artificial colors, no monosodium glutamate and is gluten-free. It also contains no nitrites or nitrates and has 10 grams of protein per serving with only 90 calories. This year, based on the success of the original, peppered and teriyaki flavors, comes new smoked barbecue and sweet spicy flavors.
Chomps, Chicago, continues to grow its meat stick line with new pepperoni turkey, which features a blend of spices, including chili pepper, fennel seed and oregano.
"We're continuously listening to consumer feedback and are happy to launch pepperoni turkey due to the desire for more turkey varieties. Now, more than ever, consumers are also using our sticks for more than just snacking. Pepperoni turkey allows consumers to spice up their favorite recipe as well," said Pete Maldonado, CEO and co-founder of Chomps. "Additionally, while pepperoni products typically have preservatives, like sodium nitrate and other unnecessary additives, Chomps Pepperoni Turkey provides high-quality protein combined with real spices to offer all of the delicious pepperoni taste and none of the questionable ingredients."
Crafted with sustainably sourced protein from free-range, humanely raised turkeys that are fed a non-GMO diet and never given antibiotics or hormones, each stick contains 10 grams of protein and 90 calories. As are all Chomps meat snacks, this new flavor is Whole30 Approved, Certified Gluten Free, Certified Paleo, Keto Certified and allergy friendly.
"Chomps has found a diehard following with on-the-go consumers who want a tasty boost or a quick, healthier snack fix, and really care how their food is crafted," Maldonado said. "We emphasize quality as much as convenience because consumers today demand both, and even more, from healthier snack foods."