CHICAGO — Consumers are shopping inside convenience stores less frequently but are buying more items per trip.
The wave of at-home eating has weighed on c-store transactions, which remain down from pre-pandemic levels despite improvements in consumer mobility throughout 2021. Year-to-date in-store shopping trips across the convenience channel are down 2% from 2020 and 14% from 2019, according to data from PDI, a convenience retailer software solutions company.
"The cool thing is that when people do come inside, they're spending more," said Christopher Rapanick, director of business development at the National Association of Convenience Retailers, during a presentation at the NACS 2021 Show, held Oct. 5-8 in Chicago. "The average basket is 18% higher in 2021 versus 2019."
Energy drinks have emerged as a driver of basket growth, especially during the morning daypart. Seven-in-ten energy drink trips during the breakfast rush include items from other categories, according to PDI.
New energy drinks on display at the NACS Show featured sugar-free formulations and functional ingredients promoting added health benefits.
Las Vegas-based Living Essentials LLC, maker of 5 Hour Energy, is expanding beyond its 2-oz energy shot platform with a line of 16-oz carbonated beverages available in watermelon, grape and berry flavors. The company also showcased new Daily Support energy shots featuring zinc and vitamins C, D3, B12 and B5.
Optimum Nutrition, Downers Grove, Ill., added a new Orange Blast variety to its AMIN.O Energy line. The lightly carbonated energy drink supports hydration and recovery with 5 grams of amino acids, 100 mg of caffeine and added electrolytes. PepsiCo Inc., Purchase, NY, shared plans to launch Baya Energy, an energy drink line created in partnership with Starbucks Corp. that will feature 160 mg of caffeine plus vitamin C.
Snack trends
New takes on familiar snacks also were trending at the 2021 NACS Show.
Mondelez International Inc., Chicago, is bringing two popular cookie brands into a new format with Cakesters. Featuring crème sandwiched between two soft-baked cakes, the snacks are available in Oreo and Nut Butter varieties.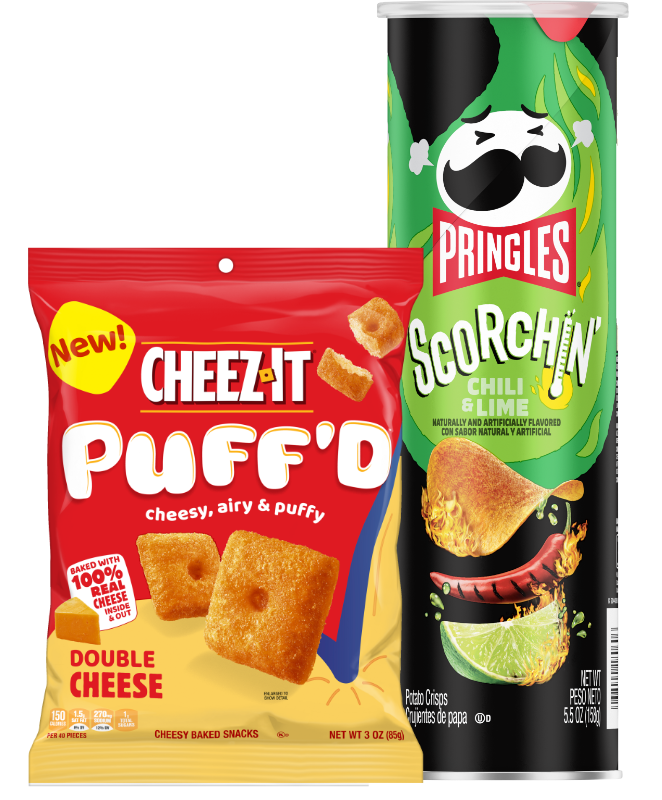 Mars, Inc., McLean, Va., showcased its Snicker Almond Brownie. Featuring a brownie filling mixed with chopped almonds, the snack is topped with a layer of caramel covered in dark chocolate. The company also is bringing its Starburst brand into a new squishy format with Starburst Airs, an aerated gummy candy. New Twix Salted Caramel adds a pinch of salt to the classic layered Twix format for a new sweet and salty experience.
Kellogg Co., Battle Creek, Mich., is bringing two popular brands together for a breakfast-inspired treat with Pop-Tarts Eggo Frosted Maple. The company also showcased Cheez-It Puff'd, a bite-size version of the cheese cracker with an airy, puffy texture.
"What we've experienced over the last year and a half is consumers really gravitating towards established brands," said Ami O'Keefe, senior commercial strategy manager at Kellogg Co. "I think it provided a sense of comfort in some cases. We're building on that by bringing brands into new spaces."
Kellogg Co. also showcased new Pringles Scorchin' in chili lime and sour crème and onion varieties.
"Spicy is where we're seeing the majority of the growth in our salty snacks portfolio," Ms. O'Keefe said. "Earlier this year we launched Pringles Scorchin' in barbeque and cheddar flavors, so we're expanding that lineup with chili lime, which is one of the top overall flavors when it comes to hot and spicy."
Data from NACS show spicy is the top flavor in the salty snacks category. Two-thirds of consumers surveyed in 2021 said they prefer spicy and bold flavors, compared to 25% in 2020. Millennials and Gen Z show the strongest preference for new tastes, with 45% saying they prefer snacks with spicy flavors,
New spicy snacks on display at the NACS Show included Cheddar Bomb Blazin' Hot cheese snacks from Benestar Brands; mango habanero beef jerky from Wenzel's Farm; and Ruffles Flamin' Hot Cheddar Sour Cream from PepsiCo.
Foodservice trends
Spicy flavors profiles also are trending in new foodservice items. Products on display at the NACS Show included Sriracha chicken rolls from Chung's Products LP; Tapatío Hot Sauce Cheddar Franks from Sigma US; and Ranchero Breakfast Scrambles from Haliburton International Foods.
"Unique flavor profiles are a big trend," said Greg Hetfield, director of sales for the convenience store segment at Hormel Foods Corp. "Globally inspired flavors like pork carnitas, chicken tinga and beef barbacoa are really appealing to operators."
At the NACS Show, Austin, Minn.-based Hormel Foodservice showcased ATX-Style Breakfast Tacos made with a meatless Chorizo-style topping, eggs, cotija cheese, lime pickled onion and Herdez Guacamole Salsa. The company also displayed fully cooked bacon and chicken products to help retailers facing labor challenges.
"The No. 1 pain point for c-stores right now is labor," Mr. Hetfield said. "An operator just needs to spend 30 seconds heating the bacon, and they don't need to have that skilled labor set to cook our fire braised chicken breast. You can do multiple menu applications with both of these products, and c-store operators are trying to find ways to get multiple uses from the same item."
On the sweeter side, birthday cake and unicorn flavors were trending in colorful bakery items such as rainbow butter cakes and confetti liege waffles.
Islip, NY-based Cookies United LLC showcased its Classic Italian Rainbow Cookies, which feature green, yellow and pink slices of almond cake separated by raspberry jelly and finished in dark chocolate. Cedar Grove, NJ-based David' Cookies debuted a birthday cake edible cookie dough alongside new carnival cake slices and rainbow cake slices.