CHICAGO — "Real food" is the rallying cry of Generation Z grocery shoppers, according to a recent report from The NPD Group.
Gen Z, those born between 1997 and the present, represent 27% of the U.S. population. They have higher consumption rates of organic foods and beverages than any other group, NPD said, and were taught to value food based on nutrition and function, not just in terms of taste.
"Food marketers should understand that this generation grew up knowing that food is much more than sustenance; food represents culture and therefore is an expression of who they are," said David Portalatin, food industry adviser for NPD and author of Eating Patterns in America. "This generation was raised to be real and true to themselves, and they expect the same from their foods and beverages."
"Generation Z was born into the world of foodie culture. They have the potential to be perhaps the most influential generation we've ever seen on consumers' eating and drinking behaviors." — David Portalatin, NPD
Many assume Gen Z is a carbon copy of the millennial generation, and while they have similarities, the differences will "require grocers and food manufacturers to fine-tune their messages," NPD said. Gen Zs are similar to millennials in their demand for authenticity, freshness and purity in their products, but more than millennials, Gen Z consumers say clean eating improves their quality of life and that fresh foods play a key role in their lifestyle. And they aren't just saying that. Gen Z accounts for some of the heaviest use of organic and non-G.M.O. foods, according to NPD.
Gen Z consumers also differ from millennials in their attitude toward large brands. While millennials tend to favor smaller, niche, local brands, Gen Zs choose brands based on different criteria.
"In many ways Gen Z consumers think of themselves as having a personal brand with a story and values by which to live," NPD said. "They seek brands that support their story, and they are willing to use them regardless of a brand's size."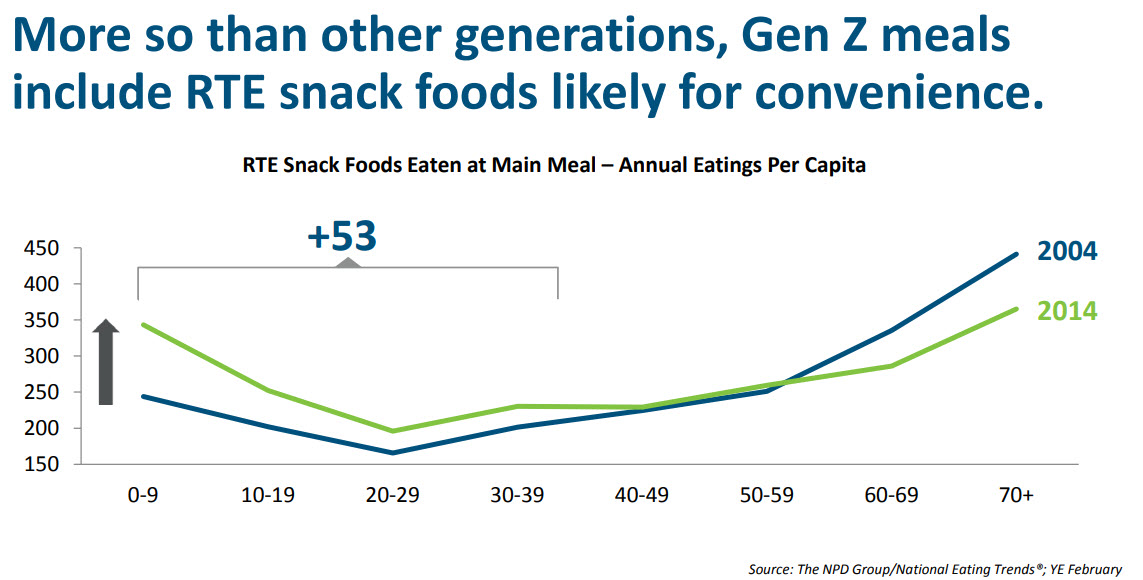 Gen Zs also approach snack foods differently. The generation's on-the-go lifestyle lends itself to more ready-to-eat foods that may be incorporated into or in between traditional meals.
"Snacking is just an extension of who this generation is," Mr. Portalatin said. "They're more likely than any other generation to incorporate snack foods as a part of … breakfast, lunch or dinner. In fact, they're doing this at a rate 53 times more on a per capita basis annually than any other generation.
"Generation Z was born into the world of foodie culture. They're growing up with a keen understanding of the purpose for food and the role that it plays in a well-lived life. They have the potential to be perhaps the most influential generation we've ever seen on consumers' eating and drinking behaviors."