CHICAGO — A growing number of consumers are relying on fortified foods and beverages to either prevent illness or manage specific health concerns. This includes dairy-based beverages, cheese, yogurt and even ice cream. The products start with a nutrient-dense base — milk — that readily functions as a delivery vehicle for everything from essential micronutrients to ingredients that make consumers feel, perform and sometimes even look better.
Fortification started as a public health intervention about 100 years ago in the United States and proved to be an effective approach to eradicating nutrient-deficiency illnesses, such as goiter, which was addressed by the iodization of salt in the 1920s; rickets, which was why vitamin D started being added to milk in the 1930s; and neural tube birth defects, which is why the U.S. Food and Drug Administration mandated all enriched cereal grains be fortified with folic acid starting in the late 1990s.
Fortification is not to be confused with food enrichment. The World Health Organization and the Food and Agriculture Organization of the United Nations define fortification as "the practice of deliberately increasing the content of an essential micronutrient in a food irrespective of whether the nutrients were originally in the food before processing or not, so as to improve the nutritional quality of the food supply and to provide a public health benefit with minimal risk to health." This differs from enrichment, which refers to the addition of micronutrients to food that had been lost during processing.
To better understand, think about fat-free milk, which is enriched with vitamin A. This is a fat-soluble vitamin present in whole milk but removed with milkfat to make the product fat free. Vitamin D, on the other hand, is not inherently present in milk. Most milk is fortified with the bone-building nutrient.
New ideas are blossoming
Different approaches to fortification are abundant in the marketplace. Ingredients, for example, may be added as concentrated, purified compounds, such as fiber, minerals, omega-3 fatty acids, plant extracts, probiotics, proteins and vitamins. They also may be added indirectly through nutrient-rich whole foods, which is what you get with various grains, nuts, seeds and superfruits. Some even consider managing an animal's diet to influence its products as a means of fortification.
Omega-3 fatty acids are essential fatty acids associated with cognitive development and maintenance, as well as preventing and managing heart disease. Most Americans do not consume enough through their regular diet; thus, fortification is paramount.
Slingshot Foods, San Francisco, provides 600 mg of omega-3 fatty acids via a blend of chia seeds, rolled oats and toasted almond bits. The combination is a side to a drinkable yogurt. The package was developed by a former refrigerated smoothie yogurt executive who wanted a macronutrient-dense, simple ingredient portable breakfast. Slingshot is a yogurt protein drink with the crunchy blend wrapped around the bottle neck in a patented plastic stick pouch. The consumer is instructed to pour it into the yogurt, then shake and drink. The shot contributes three grams of both fiber and protein to the beverage along with the omega-3 fatty acids. The line, which made its debut in blueberry, peach, plain, strawberry and vanilla bean flavors, now includes the new "powerplant" variety. It contains additional nutrients from spinach, ginger extract and turmeric. All the yogurt drinks are fortified with milk protein concentrate.
Springfield Creamery, Eugene, Ore., takes a different approach to fortify its new line of whole milk probiotic yogurts with omega-3 fatty acids. The new rich, cream-on-top-style yogurts are made with milk from grass-fed cows that enjoy a diet of organic grass and no grains, yielding milk that is high in omega-3 fatty acids. The company fortifies the yogurts with live probiotic cultures, including strains delivered at therapeutic levels to help support immune and digestive health.
"Cows that eat a fully grass diet, including alfalfa, clover and other forages, produce milk with added nutritional benefits," said Sheryl Kesey Thompson, co-owner and vice-president of marketing. "This is due to the direct relationship between what cows eat and the levels of beneficial fatty acids in their milk. In other words, when cows eat well, so do we. With many choices in the yogurt aisle, we wanted to offer our customers a 100% grass-fed, organic option with the high probiotic counts."
Chicago-based fairlife L.L.C. uses a third approach to fortifying with omega-3 fatty acids. New fairlife D.H.A. whole milk is an ultra-filtered cow's milk delivering 125 mg of docosahexaenoic acid (D.H.A.) from algal oil per 8-oz serving. The milk, which is higher in protein because of the ultra-filtration process it goes through, also is fortified with vitamins A, C, E and D. The first three are recognized for their antioxidant functions, such as preventing cell and tissue damage that lead to cellular damage and disease, including cancer.
"As a dairy company rooted in innovation, fairlife is dedicated to consistently launching great-tasting products that provide essential nutrients and vitamins," said Sue McCloskey, dairy farmer and co-founder of fairlife L.L.C. "Scientists have linked these fatty acids to a variety of health benefits throughout life, including brain health and health aging."
The company also offers fairlife smart snacks nutrition shakes. The shelf-stable beverages are fortified with prebiotic fiber and vitamins A, C, D, E and K. The latter — potassium — is a nutrient of concern in the American diet, and this on-the-go snack beverage helps bridge the gap by delivering 35% of the Daily Value.
Similar to fairlife, most dairy-based beverages are directly fortified with nutrients, with many trying to pack in as much as possible to make the drink a meal replacement. Often the beverage is designed to meet the nutritional needs of a specific demographic.
Nestle U.S.A., Arlington, Va., now offers Nesquik SuperBreakfast protein breakfast milk drink. Made with milk, the shelf-stable drink is fortified with milk protein concentrate, vitamins A and D, as well as calcium. The drink comes in chocolate and vanilla flavors and is intended to be an on-the-go breakfast for children.
For older consumers, Nestle has Boost High-Protein Complete Nutritional Drink, a beverage recently reformulated to contain 33% more protein per bottle than the original formulation. Every 8-oz shelf-stable bottle now contains 20 grams of protein (40% Daily Value), mostly from milk protein concentrate but also some from soy protein isolate, plus it is fortified with 26 vitamins and minerals.
For an energizing spin, Upland, Calif.-based JoeFroyo is introducing a namesake line of ready-to-drink energy milk beverages. New JoeFroyo Functional Cold Brew combines the kick of caffeine from cold-brew coffee with the inherent protein in the drinkable yogurt. The beverage is fortified with milk protein isolate, whey and six live, active probiotic cultures.
Surfside, Fla.-based Peekaboo Ice Cream delivers extra nutrition with hidden vegetables. The new pint concept is the brainchild of founder and chief executive officer Jessica Levison, who wanted to get more vegetables — and nutrients — into her family's diet.
After much tinkering, she created Peekaboo. Varieties include chocolate with cauliflower, with the cauliflower contributing vitamins C and K, folate and fiber. It is also a source of B vitamins, manganese, potassium, protein, phosphorus and magnesium. Cotton candy with beets delivers vitamin C, folate, potassium, manganese, copper, magnesium and iron. Mint chip with spinach is an excellent source of vitamin A and contains iron, magnesium, manganese, calcium, folate, potassium and vitamins C, B6 and B12, in addition to copper and zinc.
---------------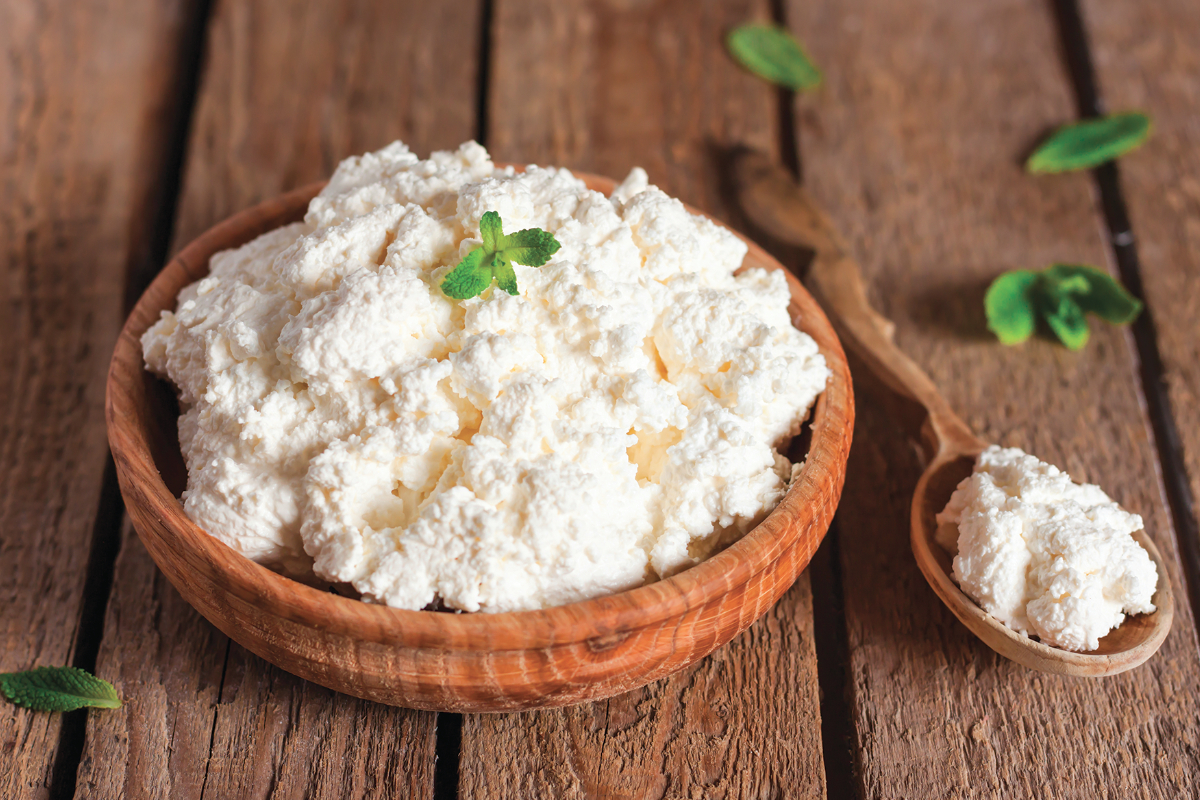 Cottage cheese makes sense for vitamin D addition
After languishing in yogurt's shadow for decades, it appears cottage cheese is back, sporting new flavors and small-batch appeal. It is the original high-protein dairy food, which during World War I was promoted as an economical protein substitute for meat and poultry. Adding value in terms of additional nutrition may further attract shoppers to the category, with vitamin D fortification a sensible start.
Few foods in nature contain vitamin D, a bone-building nutrient that also is produced endogenously when the sun's ultraviolet rays react with the skin's surface. Thanks to voluntary fortification of fluid milk, diseases caused by severe vitamin D deficiency, such as rickets and osteomalacia, were virtually eradicated in the United States in the early 1900s. However, in recent years it's been noted inadequate sun exposure and chronic disease has once again made vitamin D a nutrient of concern in terms of public health.
Researchers at the St-Hyacinthe Research and Development Centre, Agriculture and Agri-Food Canada in Quebec investigated the opportunity in fortifying cheese with vitamin D. Cottage cheese was selected because its manufacturing process readily allows for the addition of vitamin D after the draining step without any loss of the vitamin in whey.
Cream fortified with vitamin D was mixed with fresh cheese curds. Unfortified cottage cheese was used as a control. As expected, the cottage cheese was fortified without any loss of vitamin D in the cheese whey, according to findings published in the July 2017 issue of the Journal of Dairy Science. The vitamin D added to cream was not affected by homogenization or pasteurization treatments and it remained stable during three weeks of storage at 4°C. Compared with the control cheese, the cheese fortified with vitamin D showed no effects of fortification on cheese characteristics or sensory properties. Cottage cheese could be a new vehicle for delivery of vitamin D.