CHICAGO — Extended members of the Jelly Belly Candy Co. family, Fairfield, Calif., gathered on Mother's Day 2019 for a celebratory brunch. The beverage menu included flavored sparkling waters, which were not satisfying the flavor-forward food innovators.
"We were on the back patio, drinking a couple of the more popular sparkling water brands, when I said out loud, 'If only someone could nail a sparkling water with really stand-out flavors,'" said Stephen Joffer, co-founder of Joffer Beverage Co., Jacksonville, Ore., a business venture started by members of the candy-making family soon after that Mother's Day conversation. "The lightbulb came on when my dad suggested, 'Why not our own Jelly Belly flavors? We are known for flavor innovation after all.'"
Five family members came together to start Joffer Beverage and now are rolling out Jelly Belly candy-inspired flavored sparkling waters. The launch includes eight varieties: French vanilla, lemon lime, orange sherbet, piña colada, pink grapefruit, tangerine, cherry and watermelon. Each flavor has two ingredients: carbonated water and natural flavors, with zero sugar, zero calories and zero sweeteners. With more than 100 Jelly Belly flavors, the team is looking forward to developing more flavor options as the brand grows.
"The Jelly Belly brand promises fun, flavor and quality — characteristics that we believe sparkling water drinkers are looking for — and our product delivers perfectly on that promise," said Justin Joffer, another co-founder of Joffer Beverage. "We want to bring excitement to the sparkling water category through unique and intense flavor experiences."
Unique and intense experience is one of the leading flavor trends fueling beverage innovation. The intensity comes from numerous approaches. One is a focus on authenticity, which is what Joffer Beverage is doing. The company is recreating jelly bean flavors in sparkling water and not leaving room for consumers to question the flavor.
Fruit, fungi and bitter greens
Classic and international fruits always will have a place in beverage formulation. Lesser known fruit flavors often are paired with more familiar ones to encourage trial. Combination flavors continue to gain traction across all beverage categories, with popular duos being cherry vanilla and strawberry banana.
"Exotic fruits from Latin American and Southeast Asian countries will continue to be a fast-growing flavor category," said Holly McHugh, marketing associate, Imbibe, Niles, Ill. "Up-and-coming flavors include passionfruit, guava and dragon fruit."
Diet Coke's flavor options include blueberry acai, ginger lime, feisty cherry and strawberry guava. PepsiCo's Gatorade is now available in passionfruit. Water — still and sparkling brands — is pushing borders, too. A new variety from Coca-Cola's Dasani brand is strawberry guava, and Nestle's Perrier brand features a lemon guava flavor.
Bitter greens and fungi have become a mainstay in the beverage space, especially in cold-pressed juices and smoothies sold in the produce department. This not only includes kale and spinach, as well as various mushrooms, but matcha tea is also an earthy, slightly bitter green that is gaining traction.
Matcha is the finely ground powder of specially grown and processed green tea leaves. It is being used as a flavor in all types of beverages, including the new Wellness Probiotic Gut Shots from Good Culture L.L.C., Irvine, Calif. The chai matcha variety is designed to create calm, focused energy.
The brand includes a chocolate chaga variant. Chaga mushroom is a fungus recognized for its wellness benefits. It does not taste like a typical mushroom; rather it has an earthy flavor with slight bitterness and contributes a richness to beverages unlike any other ingredient.
Flowers, herbs and spices
Botanical ingredients like flowers, herbs and spices add sophistication to beverages, often along with a healthy halo. Marketers selling the functional benefits of the botanical will use the plant-derived ingredient and often supplement the beverage with a flavor extract to provide consistency and allow the botanical to be fully tasted.
"Floral, herb and spice flavors are primarily used in combination with familiar true-to-fruit flavors," Ms. McHugh said. "Mint and basil, for example, add subtle herbal notes to beverages. Common flavor combinations include watermelon mint and strawberry basil. Floral flavors like lavender, rose and elderflower are combined with flavors like berry, lemon and peach."
Hibiscus is another example. It has become a popular botanical in everything from water to tea to hard lemonade. Its slight tartness and bright pink color pairs well with more familiar flavors such as cherry, citrus (lemon, lime and orange) and mango.
Botanicals are often suggestive of mood states, depending on the ingredient. Lavender's popularity continues to grow because of its association with sleep and relaxation.
"Ginger is one of the most popular spices used in beverages because of its fiery kick and gut health benefits," Ms. McHugh said. "Turmeric is also experiencing steady growth while spices like cardamom and chili are emerging flavors."
Voss now offers strawberry ginger sparkling water. Activia probiotic cultured dairy shots recently added a honey peach turmeric variant.
Known for its bold flavor combinations, Bing Beverage Co., Lakewood, Colo., has grown its kombucha line with Bing Z energy. The new line starts with a base of Bing's kombucha and gets a kick from caffeine and ginseng. The line debuted in two flavor combinations: peach Hatch chile, which is described as hot, sweet and tangy, and guava pineapple, a sweet experience in the kombucha space.
Blossom Water, Westwood, Mass., processes a line of floral-enhanced waters in five flavors: grapefruit lilac, lemon rose, mango hibiscus, plum jasmine and pomegranate geranium. Each is water infused with the essences of fruit and flower, balanced by a touch of natural sweetness.
Coffee and tea are being used as flavors rather than base ingredients. Their flavor is suggestive of natural energy through their inherent caffeine content. Such natural energy complements the "less is more" trend that is driving the growth of clean label drinks. Consumers also are embracing the healthful aspects of consuming tea antioxidants.
"Tea and coffee flavors from Asia are being used in several non-traditional categories like smoothies and milkshakes," Ms. McHugh said. "Matcha and chai are the most mainstream flavors, but Thai tea and Vietnamese coffee are emerging as well."
Coconut and watermelon are well recognized as containing electrolytes that assist with staying hydrated. Sports beverages for pre-, during and post-workout are increasingly trying to authenticate their hydrating function by using these suggestive flavors.
New Ascent Recovery Water is formulated with whey proteins to trigger muscle protein synthesis after exercise and electrolytes for hydration. It is debuting in pineapple coconut and watermelon flavors.
Mystery and crossover flavors
Another way of providing an intense experience in beverage development is to create a mystery flavor that invites consumers to explore it with their taste buds.
Mountain Dew introduced a limited-edition mystery flavor — VooDew — last year and revealed the flavor to be candy corn the day before Halloween. The opaque white beverage had an orange "creamsicle" taste, which led many on social media to guess it was flavored after the Halloween-themed confection.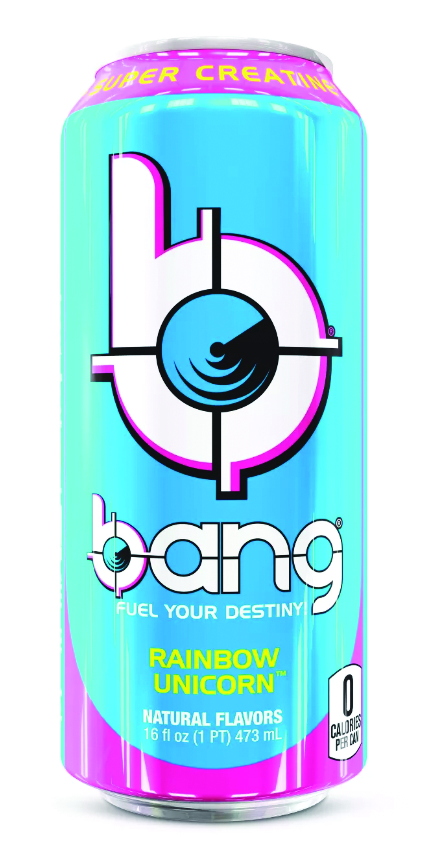 Mystery flavors create excitement in developed beverage categories. They drive engagement and encourage purchase as the consumer wants to be part of the buzz and, of course, guess correctly. Similarly, limited-edition and seasonal flavors tap into the shopper's fear of missing out.
"New discoveries" was listed as a top flavor trend by Innova Market Insights, Arnhem, The Netherlands. Two out of three respondents to a survey said they love to discover new flavors.
"Discovering new flavors is part of the drinking experience," said Lu Ann Williams, director of innovation at Innova Market Insights. "It is therefore little wonder that innovators continue to experiment and innovate with taste profiles and to use flavor as a valuable marketing tool."
Unicorn is proving to be a flavor-discovery experience. Not only are unicorns fictitious; unicorn also is not a defined flavor. This is why every unicorn-flavored product invites consumers to explore and experiment. Zero-calorie Bang Energy offers a rainbow unicorn variety described as intensely sweet with hints of watermelon and cotton candy.
Consumers craving an experience may view mystery flavors offered through tried and trusted brands as a safe way to experiment. Children like the idea, too.
The Dannon Danimals Smoothie brand offered a mystery flavor in early 2019, which was a number of flavors that were never identified by the brand. The promotion encouraged young tasters to upload videos of them trying to guess the flavor.
Preston, Wash.-based Talking Rain Beverage Co. has offered mystery flavor Sparkling Ice contests the past two years. The 2019 mystery flavor was inspired by the scents and flavors of an exotic tropical getaway. The zero-calorie, zero-sugar beverage fortified with antioxidants and vitamins was adorned in distinct blue packaging with tropical leaf accents and a toucan. Consumers shared their guesses through the brand's web site for a chance to win vacation-themed prizes. Peach was a common guess, as was guava, which was half right. It was mango guava.
"Our sweepstakes was a huge success (in 2018)," said Chris Hall, chief executive officer. "We witnessed record-breaking sales as a result of our mystery flavor offering and, as such, wanted to create a second iteration of a limited-edition flavor for this summer as well. Beyond our sales success, we also saw a direct boost of engagement on social media through our 'What the Flavor' sweepstakes."
Crossover flavors range from tastes associated with nostalgic events, such as camping and birthday parties, to those associated with comfort foods. Lifeway Foods, Morton Grove, Ill., captures that in its new shot-style probiotic kefir minis, which includes a campfire s'mores offering. Bang has a birthday cake energy drink while Silk offers an oatmeal cookie creamer.
"Flavors that trigger pleasant feelings of nostalgia are timeless and may even be mood-boosting, so they will continue to be popular in beverages," Ms. McHugh said. "This year nostalgic flavors will be inspired by baked goods, breakfast fare and candy.
"Breakfast flavors are being used in creamers, milkshakes, smoothies and protein beverages. Up-and-coming flavors include iconic cereals (and cereal milk), French toast and maple pancake."
Classic candy flavors are being incorporated into similarly highly viscous beverages. Popular flavors include peanut butter cup, chocolate covered caramel, toffee and cotton candy.
Prairie Farms Dairy offers a range of flavored milks, including seasonal varieties. Sugar cookie is a winter offering while chocolate malted milk ball is a part of the cooperative's year-round single-serve lineup.