KANSAS CITY — The bottled water category was enjoying a decade-long streak of increasing sales. Diet soft drinks were making a comeback. Then COVID-19 struck, leaving the beverage industry wondering how long the pandemic will last and how it will impact all categories.
US retail sales from Information Resources, Inc., a Chicago-based market research firm, showed sales surging in several categories, but beverage companies, especially soft drink makers, reported slumping sales in foodservice.
"We generally align with forecasts that imply the global economy could take two to three years to fully recover," said James Robert B. Quincey, chief executive officer for the Coca-Cola Co., Atlanta, in a July 21 earnings call. "Notwithstanding the macros, our North Star is to return to pre-COVID levels and to do this ahead of the economic recovery."
Robert J. Gamgort, executive chairman and CEO of Keurig Dr Pepper Inc., Plano, Texas, also spoke about COVID-19 in a July 30 earnings call, saying the macro environment will be bumpy and uncertain until a vaccine or treatment becomes widely available.
"The COVID crisis is by no means a windfall for KDP," he said. "We have been required to focus resources on the areas of our business that are aligned with changing consumer trends such as at-home coffee, multipack cold beverages, large-format retail and e-commerce, to offset significant weakness in away-from-home coffee, on-premise beverage consumption and convenience stores."
Bottled water's big decade
Bottled water volume in the United States has increased every year since 2010. Total US bottled water volume grew to 14.4 billion gallons in 2019 from 13.8 billion gallons in 2018, according to Beverage Marketing Corp., New York.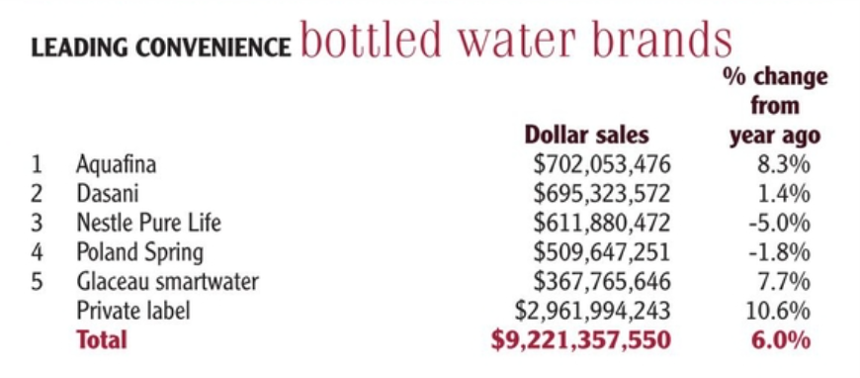 Data from IRI showed bottled water sales increasing at the US retail level this year with sales of $13.97 million for the 52 weeks ended July 12, up 9% from the previous 52-week period. Yet bottled water sales struggled outside retail. Over the first six months of the year, Danone SA, Paris, posted sales declines in water, which ranged between 20% and 40%, across all regions. Out-of-home demand declined for single-serve bottled water.
Nestle SA, Vevey, Switzerland, in May said it was exploring strategic options, such as a potential sale, for the majority of its Nestle Waters business in North America.
PepsiCo makes energy moves
IRI data showed US retail sales of energy drinks, non-aseptic, up 15% to $3.51 billion in the 52 weeks ended July 12. Category leader Red Bull North America rose 11% to $1.39 billion, and second-place Monster Beverage Corp., Corona, Calif., increased 4.9% to $1.23 billion.
"Since mid-March 2020, the company has seen a shift in consumer channel preferences and package configurations, including an increase in at-home consumption and a decrease in immediate consumption," said Rodney Cyril Sacks, chairman and CEO of Monster Beverage Corp., in an Aug. 4 earnings call. "Our sales in the second quarter were initially adversely affected as a result of a decrease in foot traffic in the convenience and gas channel, which is our largest channel, but improved sequentially throughout the quarter. Our e-commerce, club store, mass merchandiser and grocery and related business continued to increase in the quarter while our foodservice on-premise business, which is a small channel for us, remains challenged."
PepsiCo, Inc., Purchase, NY, sees promise in energy drinks. The company in March entered into an agreement to acquire Rockstar Energy Beverages for $3.85 billion. Then in April, PepsiCo entered into an agreement with Vital Pharmaceuticals, Inc. to distribute the Bang Energy drink portfolio in the United States.
Soft drinks' mixed results
Carbonated beverage sales in US Retail rose 9% to $21.44 billion in the 52-week period ended July 12, according to IRI. Yet two soft drink giants struggled in the second quarter.
Organic revenue dipped 7% for PepsiCo North America Beverages as declines in the convenience and gas and foodservice channels more than offset growth in other channels. Coca-Cola sparkling soft drinks declined 12% in sales in the second quarter, led by a decline in India, Western Europe and the fountain business in North America due to pressure in away-from-home channels. COVID-19 has influenced Coca-Cola's strategy across its beverage portfolio, Mr. Quincey said.
"The learnings from the last several months and the insights from our already accelerated SKU (stock-keeping unit) rationalization has convinced us to go even deeper on this opportunity by streamlining brands," he said. "We are shifting to prioritizing fewer but bigger and stronger brands across various consumer needs."
The company plans to discontinue its Odwalla juice brand.
"This gives us the flexibility to support our investments in brands like Minute Maid and Simply and to continue to scale rising stars like Topo Chico," Mr. Quincey said.
More coffee at home
IRI reported US retail sales of ground coffee were up 3.2% to $4.05 billion in the 52 weeks ended July 12. Starbucks brand sales rose 12% to $518.4 million, ranking behind brand category leader Folgers, which dropped 1.8% in sales to $1 billion.
Keurig Dr Pepper led vendor sales in single-cup coffee at $1.22 billion, a 1% increase. Starbucks led in brand sales in single-cup coffee sales at retail at $762.1 million, up 10%.
"On the coffee side of the business, you're actually seeing a skew toward more premium brands in this environment, and I believe that's because as people trade off from making or purchasing coffee outside of the home to making it in home, they want to take their brands with them, and the coffee shop brands that they can get now in our system skewed toward the premium end," Mr. Gamgort of Keurig Dr Pepper said. "So that's very bullish."
Immunity is in
Interest in products that support immunity, sleep and stress reduction likely will remain strong due to COVID-19, said Holly McHugh, marketing associate at Imbibe, a Chicago-based beverage development company. Expect to see a greater focus on familiar functional ingredients with established supply chains, like probiotics, turmeric and ginger for immunity and lavender, chamomile and green tea for mood enhancement.