SAVANNAH, GA. — Technology, transparency and sugar reduction are three trends driving change in the beverage marketplace. As consumers become more engaged using digital technologies, they are demanding products they perceive as healthy and often in custom, personalized formats.
"Look at coffee," said Andy Dratt, chief commercial officer for Imbibe, Niles, Ill., during a March 26 presentation at the Research Chefs Association's annual meeting in Savannah. "Stores are built around made-to-order. We are seeing this in other areas, too. Coke has Freestyle and Pepsi has Spire. We are seeing these products that offer customization, but also provide manufacturers with a lot of data they can learn from."
That data may be telling manufacturers that some segments of the consumer population are concerned about how much sugar they may be consuming.
"We need to reduce sugar consumption, but it's hard, because we love things that are sweet," Mr. Dratt said.
He said the growing popularity of such flavored sparkling waters as LaCroix may indicate the market is changing.
"...Beverages are an afterthought. For many operators it's an untapped opportunity." — Andy Dratt, Imbibe
"Consumption (of sparkling waters) is tiny compared to sparkling soft drinks, but it's growing," Mr. Dratt said. "If you are an operator and you are seeing this, you need to think about what you can do with it. This is going to be an evolution. It's not going to happen overnight."
Mr. Dratt said beverage innovation is a challenge for many food service operators, because they are locked into contracts with suppliers that limit how they use ingredients and equipment.
"We were challenged by a restaurant chain to come up with ways to customize around very specific rules," he said. "We could not touch the fountain. We couldn't put anything into their bubblers; there were a range of operational constraints. After looking at it, we came up with a cream concentrate that would allow them to make a cream soda in a variety of flavors."
Despite contractual barriers, Mr. Dratt emphasized there are ways to innovate if operators are willing to think about innovation differently.
"The beverage world is very siloed, and people tend to think about it in that way," he said.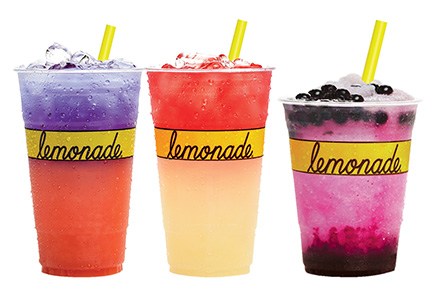 During his presentation he discussed several operators he described as "disruptors" who are taking beverages in different directions. The Mediterranean fast-casual chain CAVA, Bethesda, Md., for example, offers juice and teas in such flavors as strawberry, mint and lime, and a ginger, lime and turmeric tonic.
The Lemonade Restaurant Group, Culver City, Calif., which operates the Lemonade chain, offers a variety of signature drinks, including cold-pressed lemonades in such flavor combinations as cucumber mint, watermelon rosemary and peach ginger. The chain is also offering what it calls Skinny Lemonade "Ts," which have 30% less sugar than traditional lemonade, in varieties like blood orange with blue butterfly flower tea, and cucumber mint with red hibiscus flower tea.
At the Dutch Bros Coffee Co., Grants Pass, Ore., the company is selling coffee, but also its own energy beverage under the brand Rebel. Customers may buy the energy beverage itself or order beverage builds in such flavors as strawberry, peach and coconut; blue raspberry, strawberry, white chocolate and an almond drizzle; or blackberry, blue raspberry and kiwi.
Mr. Dratt emphasized there are numerous opportunities for innovation at food service.
"A lot of (innovation) effort goes into cocktails and food," he said. "But beverages are an afterthought. For many operators it's an untapped opportunity."