NEW YORK — New Wave Foods needed the right "snap" for its plant-based shrimp alternative.
"The texture of shrimp is pretty particular," said Michelle Wolf, co-founder and chief technology officer of the New York-based company. "There's that snap and that succulent bite that the product has."
New Wave Foods developed a proprietary mixture of seaweed extract and mung bean protein to create its shrimp alternative. The product's taste, texture and promise has pleased investors. The company on Jan. 5 said it had completed an $18 million Series A round of financing and initially will sell its products to restaurants and other foodservice locations.
New Enterprise Associates, a global venture capital firm based in Chevy Chase, Md., and Evolution VC Partners, an investment firm based in New York, led the investment round. Tyson Ventures, the venture capital arm of Tyson Foods, Inc., Springdale, Ark., invested in New Wave Foods in September 2019. Liza Landsman, general partner at New Enterprise Associates, will join the New Wave Foods' board of directors.
"Plant-based protein is one of the most important consumer trends in decades." 
— Liza Landsman, New Enterprise Associates
"Plant-based protein is one of the most important consumer trends in decades, with explosive demand for healthy, sustainable products, and New Wave Foods is delivering a plant-based seafood alternative that is delicious, responsible and humane," Ms. Landsman said. "It's an uncompromising, category-defining approach to a fast-growing market, and we are thrilled to partner with the New Wave Foods team on what promises to be a remarkable journey."
Americans eat an estimated 1.5 billion lbs of shrimp annually, and 80% of it is eaten in foodservice, according to New Wave Foods.
"Our focus is on offering customers a new, innovative, plant-based shellfish, beginning with the introduction of our plant-based shrimp," said Mary McGovern, chief executive officer of New Wave Foods. "Along with a delicious tasting product, we aim to address the environmental issues that come with shrimp farming and overfishing. We look forward to an exciting next chapter of growth for the company and are honored to have an outstanding group of investors who share and support our vision."
About 90% of US shrimp is imported from shrimp farms near the coasts in Southeast Asia, Ms. Wolf said. The farms use antibiotics and pesticides, and they are a source of greenhouse gas emissions, she said.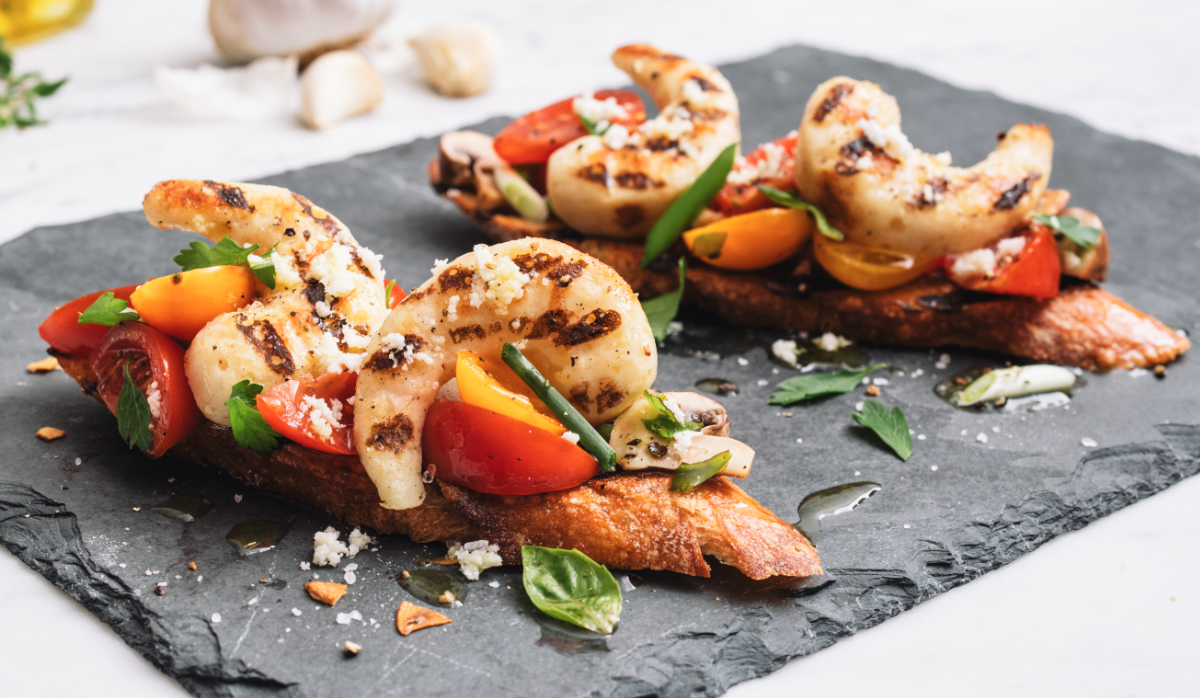 "Basically, that land isn't useful after a very short shelf life," she said. "Then they move down the coast and do the same thing."
The price for New Wave Foods' alternative shrimp is close to the price of ocean shrimp, Ms. Wolf said.
"We are going through the foodservice channel, though," she said. "So what the consumer will see is maybe a slight premium, but ultimately they are ordering an entree or a whole dish. So that will be in line (as far as price) with what they expect from the establishment that they are dining at."
New Wave Foods eventually plans to expand into other alternative products for lobster, scallops and crab. A breaded shrimp alternative could enter the market this year.
"We're saying 2021 is the year of the shrimp and being fully focused on the shrimp," Ms. Wolf said.