CHICAGO — Today's food marketing landscape may seem dominated by plant-based claims, but that doesn't mean gluten-free innovation and claims have waned. Products promoting the absence of gluten are an expected option in nearly every aisle of the supermarket, much like organic and products that are free from artificial ingredients.
Because there are many hidden sources of gluten in a formulator's ingredient toolbox, e.g., colors, flavors, shortenings, seasonings, etc., marketers prioritize sourcing certified gluten-free ingredients to make label claims for the approximate 1% of Americans who have celiac disease. That's about three million consumers who must eliminate all gluten from their diet.
There are others who have non-celiac gluten sensitivity, as well as a growing number of consumers — an estimated 30% of US adults, according to The NPD Group — who are trying to reduce or eliminate gluten from their diet as they believe it improves overall health. Perceived benefits include improved cholesterol levels and digestion, along with increased energy and weight loss.
"Consumer packaged goods manufacturers can benefit from this trend," said Darren Seifer, executive director, food and beverage industry analyst with The NPD Group, Port Washington, NY. "Appropriately labeling a product as gluten-free can remove barriers to usage for consumers with gluten issues or those who wish to cut down on its consumption. Even if the product naturally lacks gluten, consumers might not know all the sources of gluten, and the label would quickly remove any doubt."
Eliminating gluten from the diet means avoiding all foods and beverages made directly or indirectly with sources of gluten, namely wheat and a range of other grains, including barley and rye. Common gluten-free flours include those made with rice and tapioca, both of which have a bland, neutral flavor and color. Corn flours are also inherently gluten-free. Corn has a short texture, which produces a crumbly finished product that only works in certain applications.
Oats have been a challenge in gluten-free formulating. They are naturally gluten-free, but traditional production practices are ripe for cross contamination. This has made their use in gluten-free products difficult, much to the dismay of marketers, as oats are a sought-out whole grain.
"Even if the product naturally lacks gluten, consumers might not know all the sources of gluten, and the label would quickly remove any doubt." — Darren Seifer, The NPD Group
Several ancient grains, including amaranth, buckwheat, millet, quinoa, sorghum and teff, are gluten-free. The flours tend to have strong tastes so they are not compatible with some applications.
Tubers and pulses, e.g., dry beans, dry peas, lentils, etc., also are inherently gluten-free. They are milled into flours and used just like white flour in some applications. All tree nuts are also inherently gluten-free. Almond flour is useful in gluten-free formulations because of its neutral flavor and pale color.
Several upcycled ingredients are being ground into flour that may work in combination with other gluten-free flours to assist with delivering desirable taste and texture. Grapeseed flour, for example, is made from the seeds typically discarded after the production of cold-pressed grapeseed oil. Defatted sunflower seed flour is an upcycled byproduct from sunflower oil extraction, while okara flour is made from the soybean pulp generated during soy milk production.
Over the past decade, suppliers have invested in improving gluten-free ingredient systems, which is contributing to burgeoning growth in the sector. The global gluten-free market is projected to reach $43.65 billion by 2027, exhibiting a compound annual growth of 9.2% during the forecast period, according to Grand View Research Inc., San Francisco. North America accounted for the largest revenue share of nearly 41% in 2019.
New labeling reg approaching
On Aug. 12, 2020, the US Food and Drug Administration issued a final rule requiring food and beverage manufacturers to ensure products containing fermented or hydrolyzed ingredients meet the definition of gluten-free before fermentation or hydrolysis if they make a gluten-free claim. The FDA's original rule on gluten-free labeling forbids any product made with wheat or gluten ingredients to be labeled gluten-free.
The new ruling was necessary because gluten breaks down during fermentation or hydrolysis. Current available analytical methods do a good job of identifying intact gluten proteins but are less effective at identifying residual gluten once the proteins have been broken down. They are not able to detect if gluten had been present in such products. The compliance date is Aug. 13, 2021.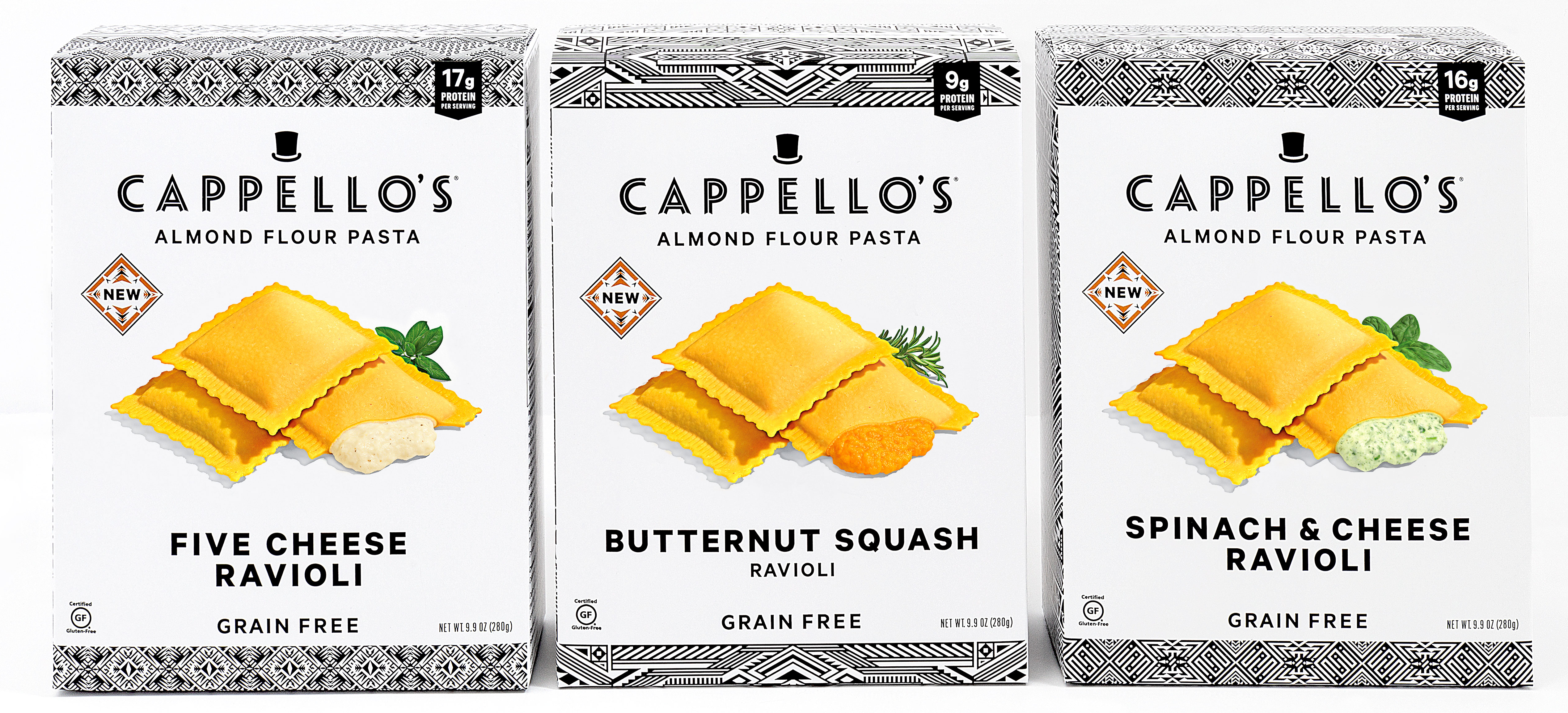 "Finished food products that will trigger the FDA's stricter rules requiring greater recordkeeping to make a gluten-free label claim include yogurt, cheese, sauerkraut, pickles, soy sauce, green olives, in addition to hydrolyzed plant proteins used to improve flavor or texture, enzymes and FDA-regulated beer and wine," said Janet Garetto, co-leader of Nixon Peabody LLP's Food, Beverage and Agribusiness practice team in Chicago. "Manufacturers should immediately focus on best practices for gathering records from parties in their supply chain to demonstrate compliance and how to best maintain the necessary records for the required two-year period.
"Manufacturers should also be assessing avenues for effective quality control tools to ensure that any foods they label as gluten-free do not contain 20 ppm (parts per million) or more gluten, and managing any potential for gluten cross contamination."
But remember, if the product is made with wheat or gluten ingredients it may not be labeled gluten-free. This is true even if it contains less than 20 ppm of gluten after processing. Products made with any grain other than the gluten-containing grains of wheat, rye, barley, or their crossbred hybrids like triticale, may be labeled gluten-free if the presence of any unavoidable gluten due to cross-contact situations is less than 20 ppm.
The FDA's ruling also covers distillation and allows manufacturers to label distilled products, such as vinegar made from barley, rye or wheat, as gluten-free. That's because the distillation process removes all traces of residual protein, and therefore removes gluten.
In response to the FDA's ruling, the Alcohol and Tobacco Tax and Trade Bureau updated its policy on gluten content statements on labels and in advertisements for wines, distilled spirits and malt beverages regulated under the Federal Alcohol Administration Act. The TTB is continuing to authorize use of gluten-free claims on such alcoholic beverages distilled from gluten-containing grains as long as good manufacturing practices are followed that prevent the introduction of any gluten-containing material into the final product.
Frozen food innovation
There has been a lot of activity in the frozen food space, where it can be challenging to formulate gluten-free, as the applications are often quite complex. The more ingredients, the more certifications required. Plus, many frozen meals — think pasta, pizza and sandwiches — historically have been based on wheat.
The Power of Frozen 2021 report showed the value of gluten-free frozen foods in the United States to be $2.6 billion in 2016 and $3.9 billion in 2020. This reflects a compound annual growth rate of 8%.
Cappello's has been reinventing the frozen food aisle with its grain-free creations for the past 10 years. The Denver-based company is continuing that trend with the debut of a first-of-its-kind entree to the market: grain-free ravioli.
Made with almond flour, the five-cheese variety is filled with ricotta, mozzarella, Parmesan, fontina and asiago cheeses, while spinach and cheese features ricotta cheese. One serving has 16 to 17 grams of protein.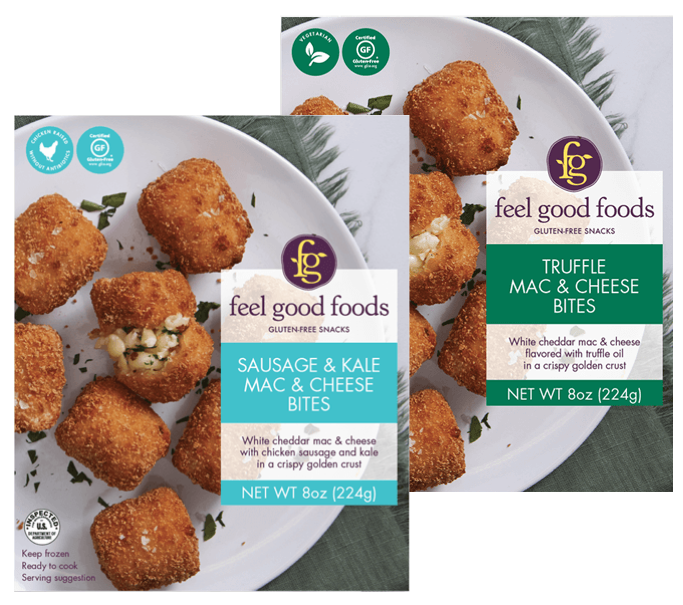 Brooklyn, NY-based Feel Good Foods was founded to bring nutrient-dense, gluten-free ingredients to consumers via frozen snacks and appetizers. New products include breakfast pockets in varieties such as chicken chorizo, Mediterranean tofu scramble and uncured bacon, egg and cheese. New macaroni and cheese bites, which are white cheddar noodles made with rice flour and tapioca starch, also are available. The line comes in two adult-centric flavors: sausage kale and truffle.
Michael Tierney, a graduate of the Culinary Institute of America, founded Mikey's, Bethlehem, Pa., in 2014 when he noticed a number of companies using the gluten-free claim to imply products were healthier when, in reality, they were formulated with artificial ingredients, fillers and preservatives, he said. He set out to change that, with his first offering being English muffins. The Mikey's line soon expanded to include pizza crust, tortillas and sliced bread, all allergen-friendly frozen foods made with recognizable ingredients free from gluten, grains, dairy and soy.
The newest product is Mikey's Superfood Tortillas. The gluten- and grain-free tortillas come in three varieties: purple sweet potato and beets; turmeric and hemp protein; and spinach, broccoli and spirulina.
Sweet and savory pies is what Raised Gluten Free, Humboldt County, Calif., is about. Founded by Rosa Dixon and Milia Lando, the products are also free of dairy, eggs, nuts and peanuts. The company is rolling out vegan quiche, which is made with organic tofu and spinach, and a vegetable pot pie. Both rely on a blend of gluten-free flours to provide a flaky, pastry crust. The heat-and-serve meals are sold frozen.
On the sweeter side of the freezer, Alden's Organic, Eugene, Ore., continues to deliver on the brand promise of "Alden's for All," with 27 gluten-free product certifications and a new gluten-free vanilla bean ice cream sandwich. While the company always has had an allergen control policy in place to prevent cross contamination, it was important for the brand to secure the Gluten-Free Certification Organization logo on packaging to reinforce trust, said Eric Eddings, president and chief operating officer.
Mindful snacking
While many consumers were already grazers before the COVID-19 pandemic, the past year further blurred the boundaries between what constitutes a snack and a meal. More snacking has fueled the innovation of more mindful snacks, with a growing number boasting gluten-free claims.
Boston-based K2 Ventures is launching a new protein snack brand called Brave Good Kind, with chicken bites as its first product. The bites come in hot honey, original and teriyaki flavors, and the spices used in the formulations are selected to qualify for a gluten-free label claim.
The salty snack aisle long has been home to many gluten-free options, as potato and corn are the base for many products. If a gluten-free claim is to be made, formulators must be careful when selecting seasonings, as many are based on ingredients that may include wheat derivatives. The new labeling legislation going into effect later this year requires manufacturers to be more vigilant.