NEW YORK — Daily Harvest, a subscription-based, plant-centric meal company, is launching an innovative take on milk alternatives. Mylk is packaged as frozen wedges that contain only ground almonds, pink sea salt and vanilla bean powder. The product is prepared by blending with water.
"We saw the opportunity to once again make something cleaner, easier and more delicious," said Rachel Drori, founder and chief executive officer of Daily Harvest. "People are extremely particular about their plant-based milks, but the options today still leave them wanting. Read the labels on any grocery store shelf; previously available options are 98% water and filled with gums, emulsifiers, preservatives, added sugars, or carrageenan. These shelf-stable and refrigerated milks expire quickly and come in one size that does not fit all."
Mylk is launching with two flavors: almond and almond vanilla. The company plans to add cashew and cashew vanilla in the coming months.
"We're using 100% transitional organic almonds — which means no harmful chemicals in your Mylk — and we're actually helping our almond farmer transition their farm from conventional to organic, a process that takes about three years and is incredibly expensive for the farmer.  Less than 1% of US farmland is organic, so we're investing to help make the three-year, cost and labor-intensive process a little bit easier."
Founded in 2016, Daily Harvest offers more than 85 items, which are made with 95% organic ingredients and no fillers, gums, refined sugars, stabilizers or artificial ingredients. Developed by an in-house team of chefs and nutritionists, products range from smoothies to flatbreads to chia bowls to soups. A recently added range of non-dairy frozen desserts is made with coconut and maple and features such flavors as vanilla with salted black sesame and strawberry with berry compote.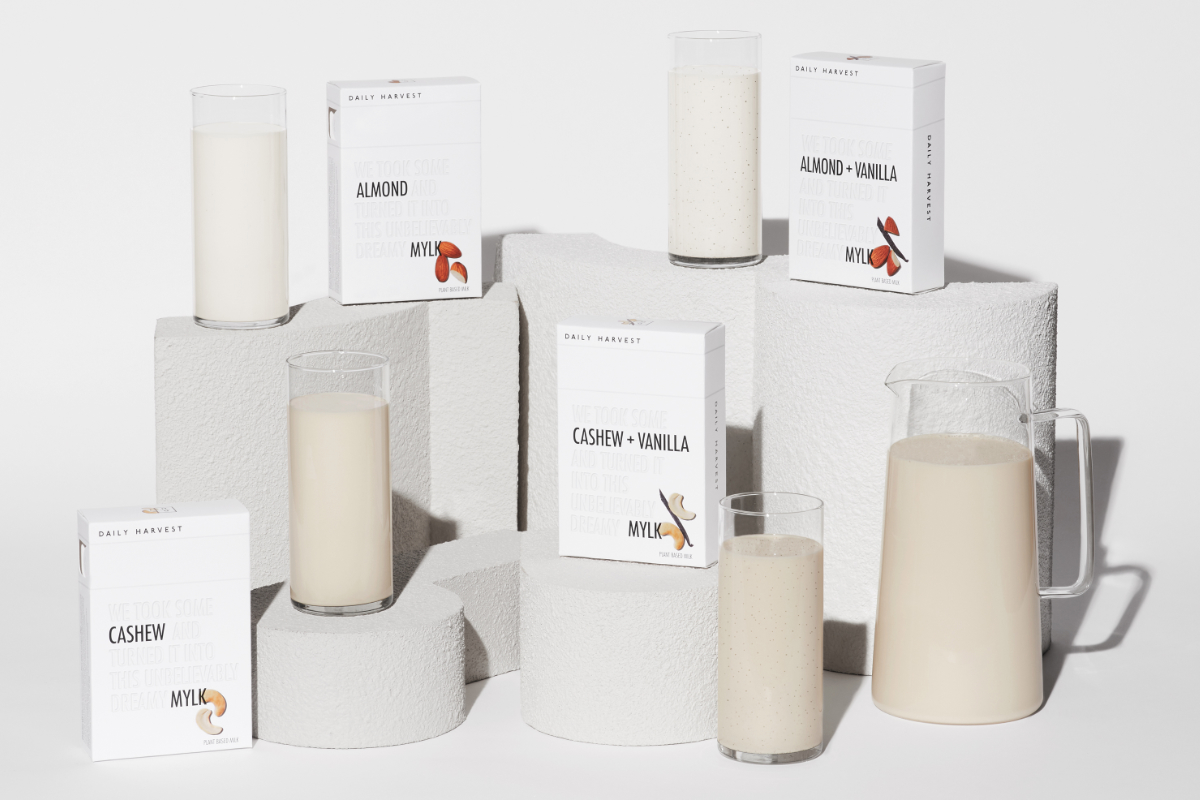 "At Daily Harvest, we create our food with the people who eat it," Ms. Drori said. "We've fostered a deep connection with our community and co-create with our customers. We never stop innovating and think of menu development as a continuous journey. We're quick, too — our typical innovation cycle is about 8 to 12 weeks."
Daily Harvest offers customized plans. Consumers may select the number of items and frequency of deliveries. The pandemic accelerated subscription orders, building on already-strong momentum, Ms. Drori said. She said the company currently sells as much food in a single week as it did in its first full year of business and saw triple-digit growth in 2020. Consumers are eating at home more but remain busy and require convenient options, she added.
"Brands with the technology and delivery infrastructure are winning," Ms. Drori said. "Daily Harvest is uniquely positioned because we offer this convenience without asking our community to compromise on taste, health or sustainability."
Last year, Daily Harvest rolled out 100% compostable and recyclable packaging made from plant-based renewable fiber. With the introduction of Mylk, the company has announced an initiative to support ecosystem regeneration and restoring the health of soil, water, the atmosphere and communities through sales of a limited-edition T-shirt at regeneration.dailyharvest.com.
"We aren't a meal delivery company," Ms. Drori said. "We believe in a world well fed and have created a brand and platform that enable better nutrition by making it incredibly easy and tasty to eat more fruit and vegetables every day."